Birding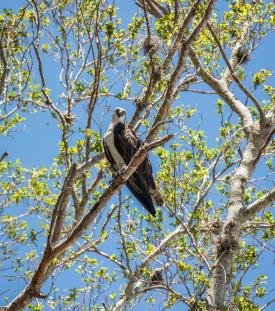 With seven sections of the Great Florida Birding and Wildlife Trail within the area, Punta Gorda/Englewood Beach – The Charlotte Harbor Gulf Island Coast, is a bird watcher's paradise.
Whether you're a beginner just starting to document the species around your home, an experienced birder with an eagle eye (as it were), or a "twitcher" who travels great distances to observe rare species, we've got an avian for every Life List.
While you'll see tons of birds no matter where you go in Punta Gorda/Englewood Beach—including, if you're lucky, the Florida Scrub Jay, the Bachman's sparrow, and the endangered red-cockaded woodpecker—here are a few birding hotspots and some of the species you can expect to find:
In The Fred C. Babcock/Cecil M. Webb Wildlife Management Area, you can expect to see brown-headed nuthatches, American and least bitterns, king rails, sandhill cranes, sedge wrens, and many others. This location is also your best shot to see the Bachman's sparrow, which nests in the spring, and the red-cockaded woodpecker.
The Old Datsun Trail in the Charlotte Harbor Preserve State Park offers opportunities to see red-shouldered hawks, white-eyed vireos, and screech and great horned owls. In the wetlands, you'll find wood storks, green herons, and ibis, both the white and glossy varieties.
In the Charlotte Harbor Environmental Center: Alligator Creek Preserve, you're likely to see downy and red-bellied woodpeckers and sparrows, warblers, and flycatchers along the flatwoods trail. In the marsh and hammock loop, look for wren, vireo, belted kingfishers, wood storks, and, during winter months, dabbling ducks.
The Charlotte Harbor Environmental Center: Cedar Point Environmental Park is an established bald eagle nesting site, which means trails may be closed at certain times of the year (October through May) to protect their nests. Closures will be clearly marked and must be respected. This park also attracts snowy egrets, great blue herons, killdeers, rufous-sided towhees, and mockingbirds all year, and common loons and bay ducks in the winter.
Charlotte Flatwoods Environmental Park is home to a variety of birds, including wading birds, great horned owls, and bald eagles. Don't only look up around here: a diversity of reptiles and amphibians can be observed in and around the wetlands and you may see bobcats, otters, and deer within the park.
The lake in Tippecanoe Environmental Park attracts common moorhens and mottled ducks, while the tidal creeks bring in black-necked stilts and ibis. Birders who want to check Florida scrub-jays and prairie warblers off their life lists should look carefully as they walk through the flatwoods and scrub habitats.
The Ann & Chuck Dever Memorial Regional Park features two significant wetlands which serve as a haven for glossy ibis, roseate spoonbills, and snowy egrets. Two boardwalks lead to observational platforms on Lemon Lake, the better to enjoy the amazing variety of birds who inhabit the lake and the surrounding areas.
Regardless of your bird-watching experience, getting out and about to bird watch is a tremendous way to spend some time, naturally!