Birding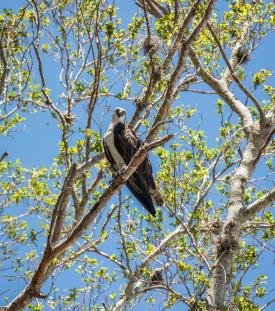 With seven sections of the Great Florida Birding and Wildlife Trail within the area, Punta Gorda/Englewood Beach – The Charlotte Harbor Gulf Island Coast, is a bird watcher's paradise.
Whether you're a beginner just starting to document the species around your home, an experienced birder with an eagle eye (as it were), or a "twitcher" who travels great distances to observe rare species, we've got an avian for every Life List.
While you'll see tons of birds no matter where you go in Punta Gorda/Englewood Beach—including, if you're lucky, the Florida Scrub Jay, the Bachman's sparrow, and the endangered red-cockaded woodpecker—here are a few birding hotspots and some of the species you can expect to find:
Regardless of your bird-watching experience, getting out and about to bird watch is a tremendous way to spend some time, naturally!