Florida Friendly Fishing Guides in Punta Gorda/Englewood Beach 
The following local guides have been certified by Florida Sea Grant as "Florida Friendly Fishing Guides." This means they have completed a rigorous certification process to prove their commitment to preserving the future of Florida's fisheries through sustainable boating and fishing techniques.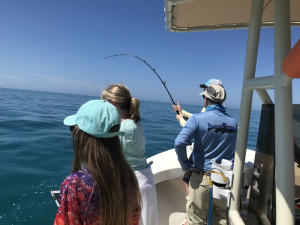 As stated on the Sea Grant site, "Florida Friendly Fishing Guides provide a richer fishing experience for their clients through their angling expertise and environmental stewardship."
Capt. Rich Damianos, Reel Rich Fishing, Certified Oct 2019.
Capt. Van Hubbard, Family Fun Fishing, Certified July 2020.
Capt. Chris Newberry, Outcast Charter Company, Certified Nov 2019.