Event & Conference Center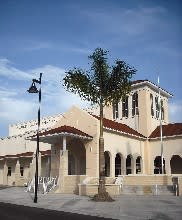 The 44,000-square-foot Charlotte Harbor Event & Conference Center offers state-of-the-art facilities consisting of beautiful decor, professional and flexible multi-purpose spaces, top food service management, waterfront vistas, and warm hospitality. The center's largest meeting space measures nearly 20,000 sq. ft., enough for 112 booths or 1,517 delegates seated theater style. It also features 8,500 sq. ft. of public concourse and meeting rooms.
The Charlotte Harbor Event & Conference Center is managed by ASM Global (www.ASMGlobal.com). Founded in 1977 and headquartered in Conshohocken, Pennsylvania, ASM Global provides management services to over 300 public assembly facilities including convention centers, arenas, stadiums, and performing arts theaters worldwide, totaling more than 23 million feet of exhibition space and over 2.7 million entertainment seats.
ASM Global manages 70+ convention centers including The Moscone Convention Center in San Francisco, Broward County Convention Center in Fort Lauderdale, Florida, and the Hawaii Convention Center in Honolulu, Hawaii. The ASM Global brand is recognized by leading corporate, association and trade show planners. A number of these firms hold national agreements making SMG their 'preferred provider' when convention centers are required.
As Southwest Florida's premier year-round eco-tourism destination, Charlotte Harbor offers world-class boating, fishing, sailing, abundant nature explorations, pristine beaches, challenging golf, unique shopping and dining experiences, and a thriving arts community. The Punta Gorda/Englewood Beach Visitor & Convention Bureau will assist with event coordination and help facilitate site selection, group itineraries and pre- and post-conference activities.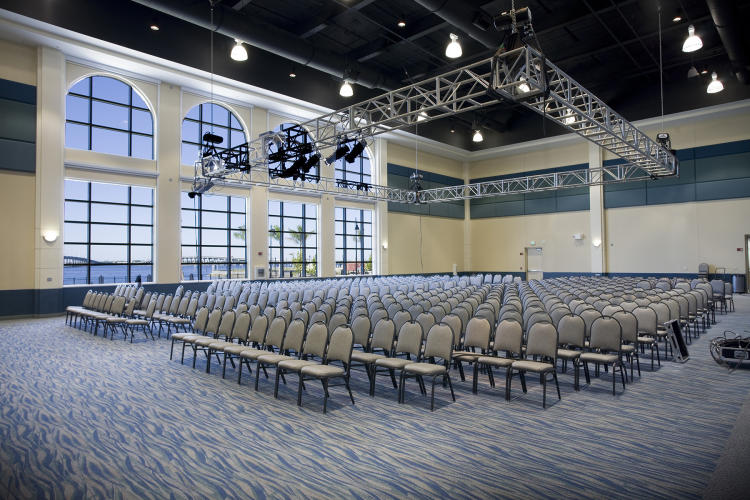 Location:
75 Taylor Street
Punta Gorda, FL 33950
Telephone: (941) 833-5444
Facility Website: www.charlotteharborecc.com
Box Office 
The box office has two windows and is located in the lobby adjoining the main entrance and the concourse.
Concourse 
The concourse can be utilized as pre-function/registration space and has a ceiling height of 23'. The flooring is terrazzo inlaid with a decorative marine design. Power and data connections are available on both sides of the concourse. A cafe is located in the concourse.
Main Hall - Hibiscus A, B, & C 
This hall can be divided into 3 separate smaller halls. The flooring is portable carpet tiles over concrete slab.
The ceiling height ranges from 45' over stage (in Hibiscus A) to 38' throughout the remainder of the hall.
Hibiscus Hall provides electrical connections on a 30' x 30' grid in the floor. The flooring is portable carpet tiles over cement.
Meeting Rooms 
Myakka River Room A & B, Peace River Room A & B
Both the Myakka River Room and the Peace River Room can be divided into 2 separate smaller rooms to create 4 break-out rooms. The ceiling height throughout these rooms is 12'. The flooring is carpet.
Theater Staging Areas 
Group Dressing Rooms: There are two group dressing rooms, and each includes full bathrooms with sink, shower, toilet and lighted make-up mirrors.
Star Dressing Rooms: There are two star dressing rooms, and each includes private full bathrooms with sink, shower, toilet and lighted make-up mirrors.
Great Lawn  
The Great Lawn is comprised of 18,900 square feet along the waterfront. A terrace made of pavers is adjacent to the building, and two entrances open out to the Great Lawn from the concourse. The standing-room capacity of the lawn is approximately 2,000 including the terrace. The Great Lawn includes power connections at both the side stage location and waterside, allowing for flexible use.