Malls & Outlets
We're an outside wonderland but that doesn't mean we don't have some great shopping. Shopping is one of the top activities our visitors enjoy in Punta Gorda/Englewood Beach. At some point during your visit – we encourage you to explore some of the unique malls and shopping opportunities scattered around the destination.
Port Charlotte Town Center Mall features stores like Bealls - "The Florida Store," and larger retailers like Dillard's, JC Penney, and DSW, as well as a Regal movie theater.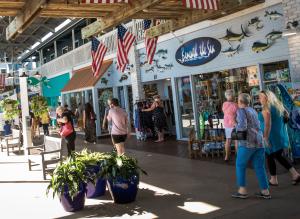 Fishermen's Village in Punta Gorda offers over 25 stores featuring everything from clothing and jewelry to art, home décor, sweets, beach wear, fun stuff for kids, and souvenirs of all kinds—to name just a few—so you'll find gifts for all, including yourself.
There are also a good number of small plazas and outdoor malls throughout the area, as well as larger outlet stores like Sketchers, Burlington, and more.
And, while they're not technically malls or outlet stores, we have several shops in the area that merit a mention: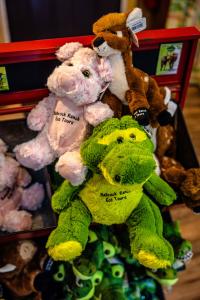 The gift shop at Peace River Botanical & Sculpture Gardens is a treasure trove. You'll find one-of-a-kind and locally crafted art, candles, and other gems that will always remind you of your trip. The fun and funky gift shop at Babcock Ranch Eco-Tours offers a wide variety of souvenir-type items, t-shirts, and more. The Ship's Store at the Military Heritage Museum offers everything from hats and books to toys and even blankets, and gift certificates. And don't forget the Visual Arts Center where local artists and craftsmen items are featured in the gift shop.
Within an hour's drive you'll find some of the best outlet malls in Southwest Florida. Located about 50 minutes to the north is Ellenton Premium Outlets with 130+ stores and about 45 minutes to the south there is Miromar Outlets with 140+ stores to explore. Spend an hour – or spend the day.
From gifts and souvenirs to special purchases and those miscellaneous goodies, you'll be able to find everything you're looking for when shopping in Punta Gorda/Englewood Beach.
Explore some of our local shopping businesses below.