Annual Tourism Awards
Much of the visitor experience in Punta Gorda/Englewood Beach is shaped by the restaurant and lodging employees our visitors encounter—or enjoy the work of—every day. Outstanding employees have helped us garner a 97% "satisfied/very satisfied" rating and a 97% "will return" rate from our visitors,* and we'd like to help recognize them for being such wonderful ambassadors for the destination.
Nominations for the 2023 Annual Hospitality Awards are open.
Last year's Tourism Awards nominees and winners:
The Lodging Awards honor those Rockstars who keep guests smiling and who put in the hard work to keep visitors happy and comfortable. 
The 2022 Lodging Front of House Hero nominees are:


Winner - the Lodging Front of House Hero is:
Ella Crane, Four Points by Sheraton Punta Gorda Harborside
Ella took herself from Front Desk Agent to Executive Assistant to the General Manager and the Director of Sales and Marketing. She now trains new front desk staff and is the first to help out every department. She goes above and beyond for every guest and has made herself indispensable.
General Manager Kelly Williamson accepted the award on Ella's behalf.
 
The 2022 Lodging Back of House Hero nominees are: 


Winners (tie) -  the Lodging Back of House Heroes are:
Melissa Dietzler, Wyvern Hotel and Liame Abramov, PG Waterfront Hotel and Suites (not pictured)
Melissa began as a housekeeper and was soon promoted to Assistant General Manager of the hotel. She is central to all things Wyvern and puts her stamp on everything, including the two restaurants, the kitchen, housekeeping, events, billing, and every other procedure, with a great business sense and sense of humor.
LIame began in housekeeping and was promoted to Executive Housekeeper within two years. Liame has built what her General Manager calls "one of the strongest housekeeping departments I have seen in my 18 years in the hotel business." She is always working to help her team excel, has trained many of them, and even donates her time to transport many of them to and from work. 
Vacation Rental Heroes often wear many different hats to provide personalized vacations for our visitors. 
The 2022 Vacation Rental Hero nominees are:


Winners (tie) - the Vacation Rental Heroes are:
Terry Haynes, Little Gasparilla Vacation Rentals and Katie Meginley, Islander Properties
Terry is the Guest Services Manager and consistently goes above and beyond. In addition to her regular duties and keeping a keen eye on all rental properties, she bakes key lime pies for the guests and often caters special meals or brings handmade treats and Champagne for special occasions. If something is missing or broken, she replaces it from her own home and routinely provides guests with necessities. Terry is on call 24/7, and meets all needs with a smile. 
In just six months, Kate has raised the company's level of service, increased the efficiency of several processes, coordinated with the web developer to implement an updated website, taken over the social media management, and worked with a professional photographer to gather images for the rental system and website. She is friendly to all, an excellent communicator, has strong ethics, and always follows through.
Restaurant Heroes work hard in many capacities to ensure that visitors enjoy both their food and their overall dining experiences.
The 2022 Restaurant Front of House Hero nominees are:


Winner - the Restaurant Front of House Hero is:
Savannah Pyles, Farlow's on the Water
From server to lead server to front of house manager and bartender, Savannah quickly emerged as a leader. She greets everyone with a smile and her great sense of humor always makes people laugh. At the onset of the pandemic, Savannah worked with the social media manager to develop the Quarantine Bartender Videos (which show how to make a Farlow's cocktail at home). The series is so popular, it continues to this day! 
The 2022 Restaurant Back of House Hero nominees are: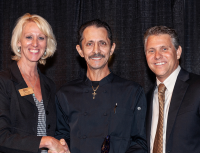 Winner - the Restaurant Back of House Hero is:
Juan Cazares, Lock 'N Key Restaurant & Pub
Juan started with zero understanding of English and took it upon himself to learn. He has filled roles as a prep cook, line cook, painter, construction worker, cleaner, groundskeeper, inventory specialist, and so much more. He has filled in at our sister restaurants with a multitude of tasks and responsibilities. He is quite literally the foundation of the restaurant and is always available to help everyone. He is the definition of a team player. He has worked for The Atamanchuk family for over 25 years, and he is a true asset.
Attraction Heroes understand, appreciate, and help shape our authentic, local experiences and events for visitors from across the world to enjoy—and return to.
The 2022 Attraction hero nominees are: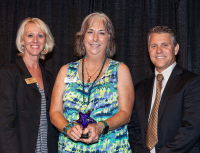 Winner - the Attraction Hero of the Year is:
Valerie Wolfrey, Peace River Wildlife Center
Originally a volunteer, Valerie now is the Curator of Exhibits role and is an essential part of our team at PRWC. Her medical knowledge, organizational skills, compassion, and positive attitude have made her an indispensable asset to our mission. She has never failed to step up to any challenge that has been presented to her. She maintains herself with poise and patience at all times. Valerie has an undeniable passion for all animals, works with excitement and determination and has an unlimited capacity to love and care for our resident animals and their daily needs.
Annual Tourism Hall of Fame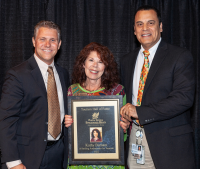 Winner - this year's Tourism Hall of Fame Inductee is:
Kathy Burnam, Fishermen's Village
The Tourism Hall of Fame is a very special honor, bestowed only upon those with an extensive body of work that has had a positive and lasting impact on the Tourism Industry in Punta Gorda/Englewood Beach. Kathy is a natural fit for this award. With her expertise, energy, enthusiasm, and warm and friendly personality, she has certainly made a very positive impact on the whole of Charlotte County. We're honored to welcome our Smiling Ambassador for Tourism into the Hall of Fame. 
---