Annual Tourism Awards
Much of the visitor experience in Punta Gorda/Englewood Beach is shaped by the restaurant and lodging employees our visitors encounter—or enjoy the work of—every day. Outstanding employees have helped us garner a 97% "satisfied/very satisfied" rating and a 97% "will return" rate from our visitors,* and we'd like to help recognize them for being such wonderful ambassadors for the destination. 

We proudly present the 2023 Tourism Awards nominees and winners:
 
The Lodging Awards honor those Rockstars who keep guests smiling and who put in the hard work to keep visitors happy and comfortable. 
The 2023 Lodging Front of House Hero nominees are:


Winner - the Lodging Front of House Hero is:
Tosha Walton, Comfort Inn & Suites
Tosha started as a part-time employee and within two years was promoted to general manager. She strives to make the property a home away from home for all guests, even staying on site for over a month post-hurricane. For over eight years, Tosha has jumped in with a perpetual smile to help with any job that needed doing, helping fellow employees—and the property—shine, 
---
The 2023 Lodging Back of House Hero nominees are: 


Winners (tie) -  the Lodging Back of House Heroes are:
Armondo Mascarenaz, The Suites at Fishermen's Village and
Norman Miranda, The Wyvern Hotel
Our hospitality industry really came together after Hurricane Ian to get Charlotte County back up and running. This made the scoring extremely tight and led to a tie in this category.
Since 2010, Armondo has taken on every challenge available. His natural gifts for service, his stalwart work ethic, and his caring heart led him to become the indispensable Assistant General Manager for The Suites at Fishermen's Village. After Ian, Armondo was on site day and night making sure FPL workers had a safe and comfortable place to stay while they restored power to the community. He spent long hours helping to operate the hotel with no power, so that the workers didn't have to sleep in their truck cabs. Having weathered both Ian and Irma, Armondo is truly our hero.
Norman started in 2013 as a laundry attendant and quickly rose to chief engineer, a position in which he's thrived over the last 5 years. With two restaurants and a 63-room boutique hotel, there are always problems to solve and pressing matters to deal with, and Norman handles everything quietly and professionally, under the patron's radar. In the days leading up to Ian, Norman secured the building, inside and out, with storm doors, windows, and flood gates. Before the storm, he had coordinated a full renovation of the property, and one week later, after the storm, he coordinated all efforts to put the hotel back in order so it was able to reopen within a few weeks. He is an outstanding asset to The Wyvern.
---
Vacation Rental Heroes often wear many different hats to provide personalized vacations for our visitors. 
The 2023 Vacation Rental Hero nominees are:


Winner - the Vacation Rental Hero is:
Claire Brophy, Parsley Baldwin Vacation Rentals
Claire is always willing to adapt, innovate, and overcome any challenge. She always strives to leave owners and guests with a smile, treating the company as if it is their own. Through her years of dedication she has moved into the office manager position.
---
Restaurant Heroes work hard in many capacities to ensure that visitors enjoy both their food and their overall dining experiences.
The 2023 Restaurant Front of House Hero nominees are:


Winner - the Restaurant Front of House Hero is:
Nicki Scansarole, Farlow's on the Water
Nicki has spent many years serving up smiles and drinks to customers and has worked her way into management. She keeps the front end of the business organized and running smoothly. Through post-hurricane conditions, she even coordinated supplies for employees. 
---
The 2023 Restaurant Back of House Hero nominees are: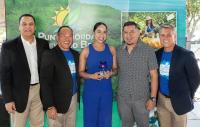 Winner - the Restaurant Back of House Heroes are:
Nino & Lolis Perez-Rojas, Lock 'N Key Restaurant & Pub
This dynamic duo met at work and raised a family while being a huge part of the work team. They now manage the kitchen with unwavering commitment to excellence and teamwork, ensuring customers always have a top notch experience.
---
Attraction Heroes understand, appreciate, and help shape our authentic, local experiences and events for visitors from across the world to enjoy—and return to.
The 2023 Attraction hero nominees are: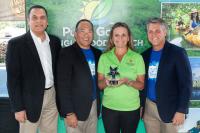 Winner - the Attraction Hero of the Year is:
Tanna Horner, Peace River Botanical & Sculpture Gardens
In a few short years, Tanna has helped build relationships with the community and other businesses while expanding the future of events the Gardens will host, including an exclusive national exhibit, Zimsculpt. Post-hurricane, she organized a food drive for the community and held a special event that raised over $100,000 for the Gardens.
---
2023 Partner of the Year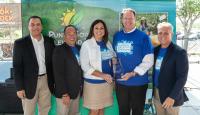 Winner - this year's inaugural Partner of the Year is:
New this year is the Partner of the Year award.
While our other awards recognize individuals, we thought it appropriate to recognize a tourism partner who demonstrates a high level of engagement, not only with the VCB, but with the industry as a whole. This was a difficult decision, as there are quite a few entities that fit this bill, and we are truly grateful for their partnership and participation.
The 2023 Partner of the Year award goes to a business that consistently goes above and beyond to support the mission of the VCB. Farlow's on the Water is just that. Not only are they always quick to say "yes!" to helping us host media, they give our visitors an authentic taste of Florida.
---
Annual Tourism Hall of Fame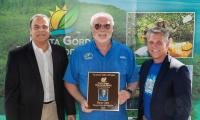 Winner - this year's Tourism Hall of Fame Inductee is:
Dana Carr, Florida International Air Show
Dana's accomplishments and contributions in the development of Charlotte County tourism are truly exceptional. He was a part of the team who revamped and brought back one of Charlotte County's longest-running events, The Florida International Air Show, that had been happening since 1982. The Air Show generates over $5 million dollars in economic impact for Charlotte County annually.
His dedication to the Air Show and to the destination are truly inspiring.
---
*Downs & St. Germain, 2022 Economic Impact & Visitor Tracking Report