Arts & Culture
Punta Gorda/Englewood Beach is a very artful area, and offers galleries, several museums, and festivals, exhibits, and cultural experiences year-round. You'll enjoy performances of all kinds from a variety of cultural institutions in the area, including our own world-class symphony orchestra, a well-respected community theater company, a professional opera company, and venues for nationally- and internationally-known stand up comedians and national musical tribute shows.
Take a Virtual Tour
of Peace River Botanical & Sculpture Gardens


The destination is also rich in history. Explore Historical Markers commemorating sites like the Hotel Punta Gorda, which opened in January of 1888. It was one of the first buildings of any kind built in the area and served guests like Thomas Edison. And keep an eye out for the History in the Parks markers across the area, like the one in Randy Spence Park outlining when Metro-Goldwyn-Mayer filmed a Tarzan feature, as well as some serials, in the El Jobean area in 1931. The crew stayed at the El Jobean Hotel and used our Southwest Florida wilderness to represent the jungle. They even brought the famous Leo the Lion, the MGM trademark and icon, with them! Click here to explore all things historical in the area, like self-Guided Tours and much more.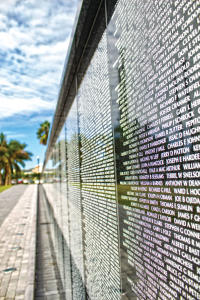 We are also a military-friendly community, from the veteran discounts offered at local businesses to our memorial parks, representation in one of Punta Gorda's historical murals, and our designation as a Florida Purple Heart entity. In fact, in 2016 Punta Gorda became home to the Vietnam Memorial Wall of Southwest Florida, a half-scale replica of the memorial in Washington, D.C. The memorial and accompanying Veteran's Park with gazebo and fountain are located within Laishley Park in Punta Gorda.
Learn more about our proud military history, the Military Heritage Museum. and more memorials here.