On The Water
What is it about waterfront dining that makes it so special? Is it the refreshing breezes, the exquisite vistas, or watching the sunset, if you've timed it right? Is it getting glimpses of wildlife—birds and maybe dolphins and manatees if you're lucky—or is it that being near a large body of water relaxes most people? The food and drink of course, is a big part of the experience, and we count ourselves lucky in Punta Gorda/Englewood Beach to have so many waterfront eateries offering remarkably fresh and scrumptious dishes and drinks…and atmospheres.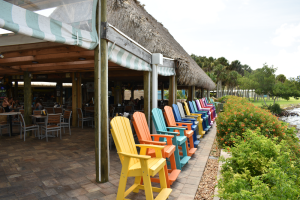 You'll find a wide variety of waterfront dining experiences in the area. You can kick off your shoes and dig your toes into the sand and eat and drink while enjoying the casually elegant ambiance with an expansive view of the harbor. Or get right next to the water and watch the boats come and go, or enjoy a flowing creek in the near distance. We recommend trying them all! Few things give more of a vacation vibe than a meal at the water's side. 
Is boat-watching better than people- or wildlife-watching? Your call.