A Golf Getaway on the Gulf Coast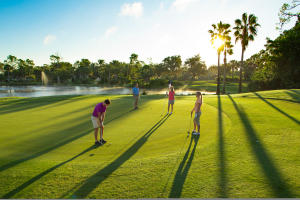 Nothing beats a day of golf under a clear blue sky, basking in the warmth of the Florida sun in Punta Gorda/Englewood Beach.
The Charlotte Harbor Gulf Island Coast offers year-round play on 15+ courses, which means an amazing variety of scenic holes of golf. Two of our clubs are on the Golfer's Choice 2022 Best Courses in Florida list, Riverwood (#7) and Heritage Landing (#9).
We also have three Audubon-certified courses: Maple Leaf Golf and Country Club in Port Charlotte, Twin Isles Country Club in Punta Gorda, and Lemon Bay Golf Club in Englewood. In order to get certified, these clubs completed a rigorous multi-faceted process that included reducing their water and chemical use and increasing their wildlife habitat areas, among other enviro-friendly measures. They demonstrate a daily commitment to environmental stewardship, which golfers (and birds) love.
When it's time to golf (and when isn't it?) come visit us and challenge yourself on our fantastic fairways and glorious greens. Once you've worked toward your par, enjoy our serene beaches, our wildlife and waterways, and our indulgent gourmet grub.
Fore!
A Sports Adventure Vacation
Southwest Florida's coastal climate is conducive to a variety of outdoor sports and recreational activities year-round. While our friends to the north are battling freezing temperatures and blizzards, Punta Gorda/Englewood Beach is abuzz with activity from hiking and biking the trails and scenic byways to playing a round of golf or two.
For those wishing to challenge the links, there are over 20 quality courses from which to choose, giving the golfer many options to construct a memorable golf vacation. Baseball is also big in Punta Gorda/Englewood Beach, and the peanuts and cracker jacks begin flowing in the middle of February when Tampa Bay Rays players report for Spring Training. Satisfy your need for speed each November with Englewood Beach Waterfest, as the Offshore Powerboat Association (OPA) holds their World Championship boat races.
For hands-on experiences, try one of our off-road adventure parks offering motocross tracks and ATV trails, or watch short track car races. You can even find several mudding events throughout the year. It's easy around here to have your adventure, your way.