A Golf Getaway on the Gulf Coast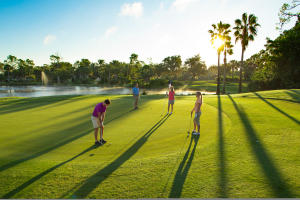 Nothing beats a day of golf under a clear blue sky, basking in the warmth of the Florida sun in Punta Gorda/Englewood Beach.
The Charlotte Harbor Gulf Island Coast offers year-round play on more than 20 courses, which means 450 scenic holes of golf. One of our clubs, Riverwood in Port Charlotte, polled at No. 1 in Florida and No. 15 nationally in the GolfPass Golfer's Choice 2021 list, and Heritage Landing in Punta Gorda was ranked No. 34 in Florida.
We also have three Audubon-certified courses: Maple Leaf Golf and Country Club in Port Charlotte, Twin Isles Country Club in Punta Gorda, and Lemon Bay Golf Club in Englewood. In order to get certified, these clubs completed a rigorous multi-faceted process that included reducing their water and chemical use and increasing their wildlife habitat areas, among other enviro-friendly measures. They demonstrate a daily commitment to environmental stewardship, which golfers (and birds) love.
When it's time to golf (and when isn't it?) come visit us and challenge yourself on our fantastic fairways and glorious greens. Once you've worked toward your par, enjoy our serene beaches, our wildlife and waterways, and our indulgent gourmet grub.
Fore!