Partner Portal User Guide
The Partner Portal is a password-protected Customer Relationship Management (CRM) system used to manage information from our local Partner businesses and provide content for the website PureFlorida.com. It is your gateway to working with the Punta Gorda/Englewood Beach Visitor & Convention Bureau (VCB). Perhaps the most basic, but important aspect of the Partner Portal is that it gives you the ability to edit and update your business's information shared on the VCB website, including: business name, description, company contacts, images, details, and amenities. But that's just the beginning. You can also view research and partner bulletins, submit upcoming events, access and respond to meeting and sports group leads, and so much more.
Below, please find easy-to-follow, detailed instructions on gaining access to the Partner Portal and getting the most out of partnering with the VCB.
Partner Portal Step-By-Step User Guide
Welcome to the Partner Portal for updating your PureFlorida.com listing.
Click here to login to the Partner Portal.
Need a user name and password? Email us.
Click below to navigate through the process:
Or download the PDF - click on the thumbnail below: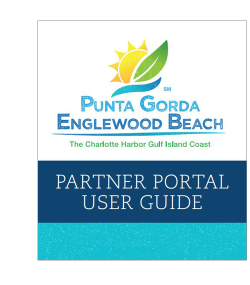 For those of you that manage Leads for Meetings and Groups, please download the PDF below for Reviewing and Responding to Leads.