BMX Track
One of the top Tracks in the country, this 1,000 foot track is well-managed by Charlotte BMX, Inc. and has a successful track record of hosting a variety of state and regional events. They also provide regular maintenance to the track as well as the recruitment and management of volunteers for events. The track is located within a county park (Carmalita Athletic Park), providing ample parking as well as space to accommodate RV's and camping.
The track, considered one of the best in the state if not the country, has hosted many events including the SSA Florida Cup Qualifiers and Regional Redline Cups.

Over 1,000 quality hotel rooms can be found at affordable rates within a 15 minute drive of the venue.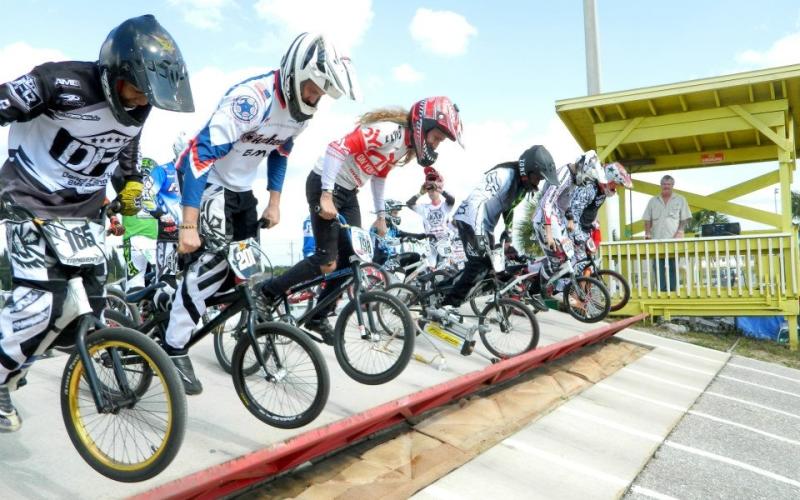 Key Stats
Track Length
1,000 ft. (over bridge)
1,100 ft. (under bridge)
General info
Staging: covered area with a capacity to accommodate 20 motos
Starting gate with 60 gallon air compressor
Audio: 4 large speakers permanently housed in tower with ability to hook up 2 wireless mics, Ipod, radio, and laptop
Seating: bleacher seating along first straight, final straight, and infield
Vendors: 40,000 sq. ft. available inside the gates of the facility
Concessions: permanent stand staffed by Charlotte BMX
Parking:
500 paved spaces
77,500 sq. ft. for RV parking and camping
Recent Media
In addition to hosting events at the track, Charlotte BMX track, operated and managed by ex-Olympian, Amanda Carr, is a breeding ground for world class athletes. She and her staff have a high-level of understanding on how to train competitive racers in preparation for the national stage. Charlotte BMX is a world class track that focuses on the fundamental of BMX racing by training new and upcoming athletes in track safety, skills, endurance, strategy and mental toughness. Most recently, in August 2022, four racers aged 12-17 represented Charlotte BMX and the United States at the UCI BMX World Championships in Nantes, France.
The videos below show the entire BMX Track and riding experience.
Contact

Sean Walter, CSEE

Business Development Director – Sales/Sports