Sports
Punta Gorda/Englewood Beach - the Charlotte Harbor Gulf Island Coast, which includes the Punta Gorda, Port Charlotte, and Englewood areas, has emerged as a premier sporting event destination. In addition to serving as the Spring Training home of the Tampa Bay Rays, our destination has also successfully hosted numerous other sporting events on the state, national, and international level. Click here for a sampling of annual and recently hosted events.
Complimentary Visitor & Convention Bureau Services
The Punta Gorda/Englewood Beach Visitor & Convention Bureau is committed to the recruitment and development of youth, amateur, collegiate, interscholastic, and professional sports events, tournaments, conventions, and championships. In a short period of time, national governing bodies and rights holders have quickly learned that Punta Gorda/Englewood Beach is committed and capable of hosting a multitude of successful events.
---
---
To assist you with your event, the Punta Gorda/Englewood Beach Visitor & Convention Bureau will:
Consult with you to discuss the logistical feasibility of events, financial assistance that may be available, and any potential conflicts.
Find sports facilities that suit your needs.
Contact accommodations for rates and room blocks, and provide you with a variety of options and detailed information on each property.
Assist with event coordination.
Contact local, regional, and national media through a public relations plan designed specifically for your event.
Provide vendor referrals and/or work with you to identify local businesses that may be interested in sponsoring your event.
For more information and assistance with an event, call (941) 743-1900 or email Sean.Walter@PureFlorida.com
---
Hey Florida Residents, Help Support Youth Sports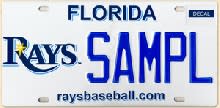 The Florida Sports Foundation and each of Florida's nine professional sports teams encourage you to purchase the specialty sports tag of your choice. Proceeds from the $25 purchase directly support each designated youth charity and the development of major and regional sports events throughout Florida. Click here to learn more.
---