Gulf Islands
Knight Island, Don Pedro Island, and Little Gasparilla Island were once a chain of islands separated by narrow passes. Although the passes began closing up in the 1960s, joining them into one landmass, they are still considered three separate entities.
Our Southwest Florida islands feature sub-tropic weather and almost year-round sunshine. Because they're a bit secluded, they're uncrowded and full of interesting wildlife and gorgeous vistas. The sands are soft and the waters are sparkling clear. Vacation rentals on the islands offer true serenity.
 
Knight Island 
Knight Island is the northernmost area and is home to Palm Island Resort and various secluded vacation rentals. The beach on Knight Island is private, available only to those staying in the resort or in a rental property. Amenities include Rum Bay Restaurant, an ice cream shop, a small grocery store, and a gift shop. You can transport your car to the island via the ferry, but once there, you may find you prefer to travel by golf cart, bicycle, or your feet.
 
Don Pedro Island
Don Pedro Island is one of our two Florida islands accessible by boat only. The majority of the island is designated as Don Pedro Island State Park, which means all-encompassing nature and quiet. There's a mile of pristine beach full of pretty shells and fossilized shark teeth, and the water is clear, warm, and inviting. A stay on this island in one of the private home vacation rentals will surely refresh and rejuvenate.  
 
Little Gasparilla Island
Also accessible only by private boat or water taxi, Little Gasparilla Island is the perfect haven for a true getaway with plenty of vacation rentals to choose from.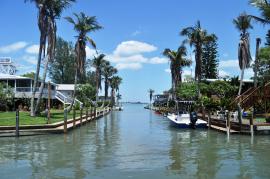 In lieu of a road, there's sandy golf cart path. No road means no cars…which means no streetlights…which means less light pollution and stars that seem to shine brighter. Find tremendous fishing in Placida Harbor on one side of the island and 7 miles of clean, quiet, Gulf coast beach on the other. Grocery stores, enticing restaurants, and shopping are a short boat ride away, while astonishing sunsets seem close enough to touch.
 
North Boca Grande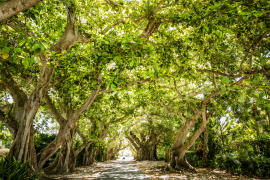 The north end of Gasparilla Island (often referred to as Boca Grande) is home to a few resorts and vacation rentals and is accessed by a toll bridge with one of the few "spin bridges" left in Florida. Nearby is Boca Grande Fishing Pier Park, the perfect place to drop a line in the water, take in the gorgeous views for a bit, or take a tour in a glass bottomed kayak. Speaking of fishing, the area is known as the Tarpon Capital of the World, and celebrates that title by holding The World's Richest Tarpon Tournament every spring—usually in May or June—when the tarpon are migrating and plentiful. The historic village of Boca Grande on Gasparilla Island, located on the south end of the island, features quaint shops and restaurants, gorgeous beaches, and activities including kayak tours, and is also a frequent destination for presidents and celebrities. For a truly luxurious getaway, there's no place better.