Things To Do With Kids
With our wide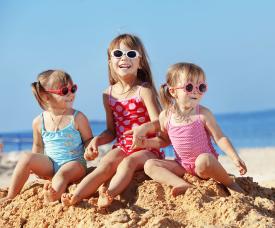 variety of family-friendly activities, Punta Gorda/Englewood Beach is a "wonder-full" place for a vacation with kids.
A day at the beach is always fun, and our beautiful Englewood Beach even features a fun playground right on the premises. For the swimmers and splashers, the area also offers several interactive fountains, inventive splash pads, and public pools. Many are located at or near peaceful public parks that offer fascinating nature, even more playgrounds, and plenty of places to run around and explore.
Getting out on the water is a breeze as well. Enjoy many different types of boating, from sunset and nature cruises to kayak, canoe, or paddling trips, and plenty in between, like jet ski tours and two-person catamaran jaunts.
Take a Virtual Tour of IguanaLand in Punta Gorda
Wherever you go, your kids will see a lot of interesting wildlife. If your child likes lizards and such, they'll love IguanaLand in Punta Gorda, the largest reptile zoo in the world with over 230 species! Octagon Wildlife Sanctuary offers private guided tours to get up close (not too close, of course!) to lions, tigers, primates, bears, and much more. Hop on a Babcock Ranch Eco-Tour for a truly wild Old Florida experience and visit Peace River Wildlife Center to get to know some of our local bird species.
Treat your star gazers (must be at least 6 years old) to an exciting night out on a Starry Night Florida tour. They'll get to look through a large telescope, use high-powered binoculars, and enjoy fascinating astronomical stories.
No matter what your child loves to do, they're sure to have a blast in Punta Gorda/Englewood Beach!