Attractions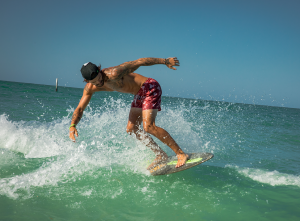 One of the best things about vacation—aside from achieving total relaxation and eating all kinds of delicious food—is the opportunity to have many "mini" adventures. Nothing makes a trip more memorable than trying activities you never thought you would, or even more so, trying ones you always wanted to.
Punta Gorda/Englewood Beach is full of experiences that will thrill everyone, from the boldest to the mildest, with recreation and rejuvenation opportunities for families, couples, and groups alike.
Our beaches are gorgeous, offering delightful swimming, snorkeling, skimboarding, and shelling and shark tooth hunting. Our paddling—especially through our magnificent Blueway Trails—is stellar. Our fishing is world-class, and our boating options are almost unlimited, from sunset cruises to rentals to learning to pilot a two-person power catamaran.
Our nature is nurtured, with tours and events celebrating it. Our art is everywhere, in galleries, shops, and on the buildings. Our history is deep and celebrated, and our culinary scene is multifarious, our cuisine hand-crafted with care.
Our golfing is addicting and our courses highlight and celebrate our treasured natural landscapes.
Don't take our word for it, though. Begin planning your perfect vacation and dive into all the possibilities!
---