Things To Do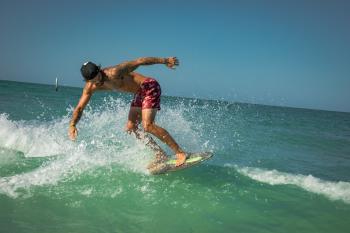 Everyone will discover their ideal vacation in Punta Gorda/Englewood Beach, whether they're nature lovers, art connoisseurs, sports enthusiasts, or foodies, and no matter if they're couples, families, or friend groups.
For the ecologically-minded, there are more than 70 parks and recreational areas as well as several environmental centers, wildlife preserves, and wildlife sanctuaries. Seafarers will want to set sail on a sunset or nature cruise, enjoy world-class fishing, paddle a kayak, canoe, or standup paddleboard through some of the nearly 200 miles of Blueway Trails, or try a boat rental and explore on their own.
Athletes and families will enjoy riding a bicycle path at Fred C. Babcock/Cecil M. Webb Wildlife Management Area or hiking through Cedar Point Environmental Park, then cooling off at a free splashpad or with a frozen treat. Outdoor lovers will relish spending a day basking in the sun and gathering fossilized shark teeth and seashells on one of the pristine beaches on Manasota Key or one of our secluded Gulf Islands. Golfers will love teeing up at a local course.
Those looking for art and culture will appreciate a symphony, theater, comedy, or opera performance, perusing a museum, savoring upscale cuisine, gallery hopping through art-rich communities, shopping vibrant retail spaces, and a good pampering at a spa or salon.
With so many activities and adventures, everyone will have a great time!