Things To Do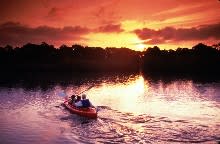 Nature lovers and art connoisseurs, couples and families will all discover their ideal vacation in Charlotte Harbor & the Gulf Islands.
For the ecologically minded, the area features more than 70 parks and recreational areas. Seafarers will want to set sail on a small boat cruise, enjoy world-class fishing or paddle a kayak through some of the nearly 200 miles of Blueway Trails. Athletes and families will enjoy riding a bicycle along a path at Fred C. Babcock-Cecil M. Webb Wildlife Management Area or hiking through Cedar Point Environmental Park. Spend a day basking in the sun or gathering fossilized shark teeth and seashells on one of our pristine beaches. Tee up at a local golf course or catch a spring training ballgame.
If you prefer cultural life to wildlife, attend a symphonic or dramatic performance, dine on upscale cuisine, gallery hop through the art-rich communities and shop to your heart's content. After whatever activities you choose, you'll be ready for a few pampering treatments at an area day spa.
Events:  For Events of all kinds, including local farmers markets and flea markets
"Through Child's Eyes" - Read & See what area school children have to say about Punta Gorda/Englewood Beach..
About the Charlotte Harbor Gulf Island Coast
Florida's premier year-round eco-tourism destination, Punta Gorda/Englewood Beach, The Charlotte Harbor Gulf Island Coast, is known for its pristine, unspoiled beauty. The area has hosted seven major feature films, been featured on SAIL magazine's list of the "10 Greatest Places to Sail in the United States," ranked by Golf Digest as the "Third Best Place to Live and Play Golf in America," and rated by MONEY magazine as one of the "Best Places to Live in the South." For information about area events, activities and attractions, contact the Punta Gorda / Englewood Beach Visitor and Convention Bureau, 1700 Tamiami Trail #G-2, Port Charlotte, FL, 33948; call 941-743-1900 for a free Visitor's Guide; or visit the Web site at PureFlorida.com.