Paddling: Kayak, Canoe & SUP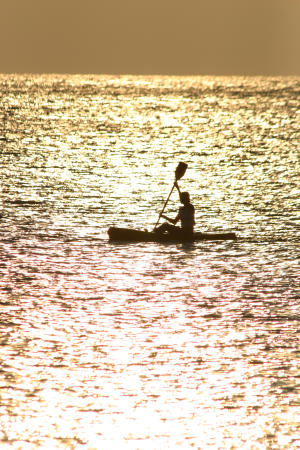 In Punta Gorda/Englewood Beach, you're probably going to want to get out on the water and paddle around a bit. But what if you don't have—or don't want to lug around—your own vessel? Not to worry! There are businesses throughout the area that offer kayak and standup paddleboard rentals, guided eco-tours, and everything else you need to launch. Charlotte County even publishes a comprehensive Blueway Trails Guide that will help you plan your explorations, available to view online and download.
A guided tour is a great option to safely explore our most wildlife-rich and beautiful areas. Choose from a kayak, canoe, or standup paddleboard tour in a variety of environments. Most outfits also offer beginning standup paddleboard lessons, so no worries if you don't know how (yet).
All tours are led by certified guides, and most of them are Florida Master Naturalists. This means that not only will you be safe on your tour, but your guide can tell you what you're seeing and what you should look for, and help you more fully enjoy your adventure and the amazing nature and wildlife in the area.
Find your next paddle below: