Accessible Travel in
Punta Gorda/Englewood Beach
This is a welcoming community for all, from Punta Gorda Airport (PGD) participating in the Hidden Disabilities Sunflower Program—a program that helps those with "disabilities not immediately obvious" get the help and support they may need when  navigating the airport—to many accessible accommodations and attractions.
 
Accessible Outdoor Activities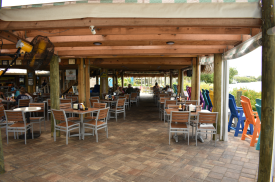 No matter your interest, you'll find accessible activities and attractions to enjoy in Punta Gorda/Englewood Beach, whether you want to hit the beach, take advantage of our beautiful nature preserves and parks, or just chill with a beautiful sunset.
If you're looking for a paddling experience, try Selkie Adaptive Paddle, a kayak touring company that offers adaptive guided paddling adventures for everyone who wants to get out on the water. When it comes to beaches, Englewood Beach at Chadwick Park, our main and most easily-accessible sandy seafront,  provides free access to beach wheelchairs, as does Stump Pass Beach State Park. 
 
Arts and Culture
You can also find accessible arts and culture galore. The Peace River Botanical & Sculpture Gardens features hard-packed, paved, or shelled walkways and two wheelchairs are available for loan free of charge on a first come-first served basis. Motorized wheelchairs are allowed, as are (only) ADA-Certified, task-specific service dogs. No trams, carts, bikes, skateboards, hoverboards, or roller skates are permitted.
Throughout the area, explore art galleries and unique retail shops, savor some of our amazing restaurants, catch a comedy show, theater or symphony orchestra production,
For some shopping, gourmet goodies at any of their waterfront eateries, and often, live music, head to Fishermen's Village. The entire structure is accessible, as are all the restaurants. If art is on your mind, pop across the street to the Visual Arts Center, the largest free art gallery in the area. Featuring ground-level entry with ramped access, the entire facility is wheelchair accessible, including restrooms, water fountains, sinks, parking, curbing, and the main entry and exit. 
Nearby you'll find the Military Heritage Museum. The parking structure entrance offers an elevator, and all parts of the building are accessible.
Explore our website to find even more accessible things to do, both indoors and out.
 
Accommodations
We have a variety of accommodation choices that are accessible. They can be found on our Places to Stay page with "Accessibility" checked as an amenity to sort by.
As you're exploring this website, you can find out if a particular business is accessible by clicking on the Amenities heading on a business's listing page.

Preserves, Parks, and Paddling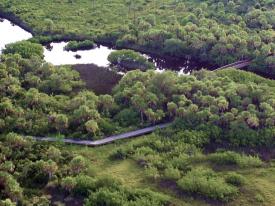 Around here, we say Our Best Side is Outside, and to demonstrate, we'd like to draw attention to a few of our accessible nature trails, kayak/canoe and paddleboard launch sites, and parks: 
 
Environmental Parks with ADA Trails:
Amberjack Environmental Park
Ann & Chuck Dever Regional Park
Cedar Point Environmental Park
Charlotte Flatwoods Environmental Park
Oyster Creek Environmental Park
Tippecanoe Environmental Park
ADA-Friendly Kayak Launches
The following kayak launches are located at an existing ADA compliant boat ramp facility and/or have compacted surfaces and graded slopes to and from the launch.
Bill Coy Preserve
Hathaway Park
Lemon Bay Sunrise Rotary Park
Oyster Creek Environmental Park
Port Charlotte Beach Park
Spring Lake Park

ADA Accessible Parks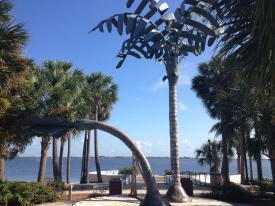 Our parks offer designated handicap parking spaces with ease of access from the parking spaces to the facility, and accessible bathrooms.
Below are a few of our "must-visit" parks that offer gorgeous water views, wide open spaces and wildlife viewing, and often, festivals, live music, and other cool events. Check our Events Calendar to see if something extra-fun will be happening during your visit.
Punta Gorda
Laishley Park
Gilchrist Park
Port Charlotte
Live Oak Point Park
Bayshore Live Oak Park
Port Charlotte Beach Park
Englewood
Amberjack Environmental Park
Englewood Beach at Chadwick Park
It's always a good idea to call ahead to confirm the business hours of operation and specific details of your destination. Wherever you decide to go, you're sure to have a naturally wonderful time!