Punta Gorda
The beautiful, historic town of Punta Gorda is the perfect vacation spot for those looking for a relaxing atmosphere with fine dining, unique art and retail, and nature and aquatic adventures built right in. A vacation rental in Punta Gorda affords convenient access to all kinds of fun, laid-back, or exciting activities, on land, sea, and air, just take your pick!
Paradise for Foodies
Don't miss your chance to dine at The Perfect Caper, Chef Jeannie Roland's ode to creative plates of Good Food. You may remember Roland as one of a handful of chefs who have prevailed against Bobby Flay in his long-running Food Network show, Beat Bobby Flay.
If waterfront dining is your jam, don't miss Laishley Crab House, Riviera Bar and Grill, or TT's Tiki Bar. Also, all six (and counting!) of the restaurants in Fishermen's Village are waterfront and offer a wide range of flavors and atmospheres. Part of the fun of eating there is working up an appetite exploring all the fun stores and treat shops, enjoying a boat cruise, or sinking your toes into the sand at their dry beach. You're also very likely to catch live music, and almost guaranteed an amazing sunset if you time it right.
A Garden Like No Other
No trip to Southwest Florida is complete without a visit to the Peace River Botanical & Sculpture Gardens. This astonishing garden combines world-class art and fascinating botanicals into a one-of-a-kind experience. You'll want to take a ton of pictures. Don't miss the Butterfly House and feeding the Koi!
Getting Around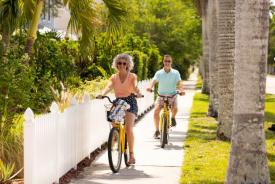 Punta Gorda is so bicycle-friendly that not only are there biking paths connecting almost everything, they also offer a free bike loaner program at various locations throughout the city.
Book a vacation rental in Punta Gorda and enjoy yourself in our slice of paradise.