Punta Gorda/Englewood Beach is a Military-Friendly Community
We appreciate all that our veterans and active duty service members have done and continue to do for our country. We are a military-friendly community, from the discounts offered at local businesses to our memorial parks, a new public mural, and our designation as a Florida Purple Heart County.
But there is more to our story: we are also home to one of only a handful of Vietnam Wall replica memorials.
The Vietnam Memorial Wall of Southwest Florida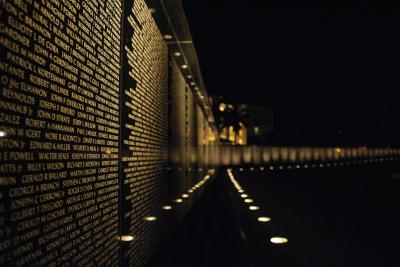 This memorial exists thanks to residents who formed The Vietnam Wall of Southwest Florida Inc. This nonprofit corporation has raised more than $625,000 in cash and in-kind contributions since its first fundraiser in April of 2014. The effort was lead by Stacy L. Jones, Community Relations Director, and retired Major General Richard Carr, President.
The property on which the Memorial stands was donated by the City of Punta Gorda. The City also donated engineering and site preparation services to ensure that the memorial survives our saltwater environment and any weather events. Charlotte County donated $50,000 and the state of Florida donated $150,000. A maintenance fund is fed by revenue from events and activities.
Care has been taken to keep the half-scale Vietnam Wall of Southwest Florida as close to the original as possible: the granite used is from the same source and the slope and "V" configuration have both been recreated exactly. Visitors can also do name rubbings of the memorial, as is allowed at the original monument.
The Vietnam Wall of Southwest Florida is located in Laishley Park and adheres to the criteria set forth for the design of the original memorial:
Be reflective and contemplative in character
Harmonize with its surroundings
Contain the names of those who had died in the conflict or who were still missing
Make no political statement about the war
The Wall was dedicated in a ceremony and celebratory event on November 5, 2016.
Vietnam Memorial Wall of Southwest Florida
100 Nesbit Street,
Punta Gorda, FL 33950
vietnamwallofsouthwestflorida.org
Military Heritage Museum
The Military Heritage Museum tells the story of U.S. military history dating from the pre-Revolutionary War to today's wars and conflicts. With thousands of artifacts, graphics, videos, realistic dioramas, touch screens, virtual reality and simulator experiences, an amazing library with genealogy access, and so much more, this interactive experience is unparalleled in southwest Florida.
In January 2019, the Museum partnered with "Witness to War," an organization dedicated to preserving the oral histories of combat veterans. Representatives met with local veterans and recorded their stories to be screened in the museum. These interviews are also included in the Veterans History Project at the Library of Congress. Visit witnesstowar.org to see and hear from these veterans.
When comparing the main floor and the upstairs area, Executive Director Gary P. Butler said, "History is about what happened, and heritage is about the human experience."
Learn about military history on the main floor, and become part of it upstairs, in the "Future Force Academy." This hands-on experience allows you to "fly" an airplane, maneuver a tanker, test your marksmanship, or reenact a military battle via virtual reality.
The full-service Academy Library boasts over 5,000 books and publications and interactive activities as well as weekly documentaries.
Find souvenirs, books and other military-themed offerings, and tasty refreshments at the Ship's Store. You can relax either inside or outside along the veranda with its nice views of the marina and harbor.
The Gulf Theater, named after a book about the U.S. Army campaigns during the War of 1812, offers seating for 240. It features live musical entertainment, lectures and meetings, and stage plays. The P-51 Club is the museum's social area for groups and is named as a tribute to the Punta Gorda Army Air Field and the North American P-51 Mustang aircraft pilots flew.
Visiting the Military Heritage Museum reminds us freedom isn't free and those who served will always be remembered. This brings us to the most important feature of the Military Heritage Museum:  the volunteers. Many are veterans who share their stories, making every visit to the museum a new experience.
Parking is available both underneath the main museum building and at nearby Fishermen's Village, which is just a short walk along a scenic pathway with great harbor views. Fishermen's Village also offers free golf cart rides from the Village to the museum and back. Call 941-456-3883 to arrange a lift.
Admission is $14 per person for adults (ages 15 and up), $12 for veterans and military active duty, $9 for youth ages 5–14, and free for children under 5.
Military Heritage Museum
900 West Marion Ave.
Punta Gorda, Fla. 33950
Tel: (941) 575-9002
militaryheritagemuseum.org
A Purple Heart County
Charlotte County became the seventh Purple Heart County in Florida on February 26, 2013. Several programs were implemented to demonstrate the county's commitment to honoring and serving veterans in the community, including designated Wounded Warrior parking spaces at county facilities, the development of the Combat Wounded Veterans Appreciation Program, and the installation of the inaugural Purple Heart County welcome sign.
According to Gary Roberts, Charlotte Sun Staff Writer, "The sign is part of a national program that pays tribute to more than 1.7 million combat-wounded Purple Heart recipients. Purple Heart Day, on Aug.7, commemorates the creation of the oldest American military decoration for military merit."
The Punta Gorda Historic Mural Society's newest work is the Historic Punta Gorda Army Air Field by artist Keith Goodson. A previous mural on this subject was painted in 2002 by artist Edwin Yip at the Charlotte County Airport (now the Punta Gorda Airport) but it was destroyed by Hurricane Charley in 2004.
Memorial Parks
William R. Gaines Jr. Veterans Memorial Park
In 2017 Charlotte County commissioners approved the renaming of a small park on Edgewater Drive as the William R. Gaines Memorial Park. The effort to rename the park was initiated by Michael Gaines, William's brother. Michael wanted to build a fitting memorial to those Americans lost in Beirut in 1983, especially his brother. The park aims to be a draw--perhaps nationally—for veterans and others interested in U.S. military history and/or the 1983 tragedy. 
In 2009, Veterans of Foreign Wars Post 5690 partnered with the County to develop the Veterans Memorial Walkway. The walkway features a brick plaza with the US Flag, Florida Flag, and POW/MIA flag with a granite monument honoring all veterans. The walkway allows quiet retrospection and leads to a monument that represents each branch of the military as well as POW/MIAs. The VFW holds a memorial ceremony on Veterans Day each year.
We welcome everyone—veterans, active-duty service people, and civilians—to explore the rich culture and history of Punta Gorda/Englewood Beach.