Adventure in Englewood, Florida
Take three days to dive deep into—and soar above—the amazing water in Englewood.
 
Day One: Beach Yoga, High Flying, and Unique Boating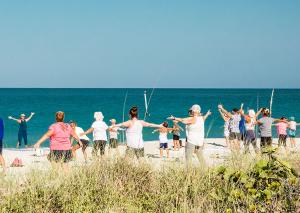 Start your day off right with Englewood Beach Yoga, which takes place daily from 8:30 to 9:30 am at the north end of Englewood Beach, just to the right of the pavilion. Arrive a few minutes early to make your optional donation of at least $5 cash if desired and to get settled into your spot. Bring a blanket, sheet, or large towel, and water, sunscreen, and bug spray.
Next it's time to take to the skies with Englewood Parasailing. As they say, "If you can sit, you can parasail."  As the boat gains speed, you'll rise so smoothly you may get the impression that the boat is leaving you behind, but you'll actually be reaching heights of up to 500 feet above the Englewood coastline. 
Next it's time for Riding the Waves, where you'll learn to pilot your own 2-person catamaran! Once you've got the hang of it, you'll follow a certified guide on an eco-tour like no other, with a stop to take a dip, enjoy sea life, and look for shells and fossilized shark teeth. Bring a state-issued ID clearly showing date of birth and re-usable water bottle (no plastic water bottles) and your own snacks and other non-alcoholic drinks. Wear a swimsuit or water-friendly clothing and bring a towel.
 
Day Two: Paddleboarding and a Sunset Tour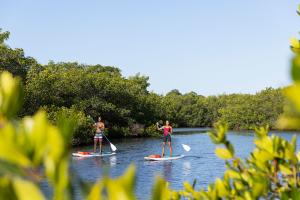 Your paddleboard eco tour with SUP Englewood will begin at the landside entrance to Don Pedro Island State Park. When you turn into the Park entrance, follow the road through two gates then and park in the main lot and put the $3 parking fee into the honor box. It's a .25 mile walk to the launch site. Your eco tour will include a paddleboarding lesson if you need it.
After a leisurely lunch and some serious relaxing, it's time for a sunset boat cruise with Lemon Bay Dolphin Tours. The excursion will be full of sightings of birds and sea life. You're encouraged to bring your own small meal or snacks, drinks (alcohol is allowed), camera, binoculars, sunglasses, sunscreen, and sweater or light jacket if it's windy.
 
Day Three: Kayaking and either Fishing or Quality Beach Time
If you've opted for kayaking, head across the Boca Grande causeway to paddle a clear-bottomed kayak and enjoy amazing views of sea life on your Guided Eco Tour or Snorkeling Tour with Glass Bottom Rentals. You may even see dolphins and possibly manatees!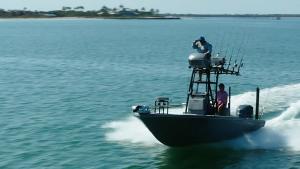 If you have arranged a fishing trip with Captain Jay of Silver Lining Charters, you'll meet at a designated location and have a great time catching fish! Bring your own drinks, snacks, sunscreen lotion (no spray-on allowed), a hat, sunglasses, and be sure to wear appropriate attire for the weather and time of year. Read more about Capt. Jay here.
If you've decided you need more quality beach time, we can't blame you! Head back to Englewood Beach or go a bit further south to check out Stump Pass Beach State Park. Wherever you go, try these tips for a great family beach day.
Before You Go
Beach parking is $.75 per hour payable via the free ParkMobile app. Visit their website or download it from Google Play or the App Store.
All activities in this itinerary except for beach yoga and beach time require advance reservations. Also, it's a good idea to sign the Englewood Parasailing waiver on their website in advance.
Be sure you have $3 in cash to pay for parking at Don Pedro Island State Park.
There is a $6 toll (round-trip) to use the Boca Grande Causeway. The Gasparilla Island Bridge Authority states that Cash, Credit Card, Apple Pay, and Google Pay are accepted forms of payment. They do not accept Sun Pass, EZ Pass, or Lee Way Pass.
Explore all these fun activities on this handy interactive map:
---
Even more great ideas: