Outsider: Capt. Jay Withers
Silver Linings Charters and Guidelines TV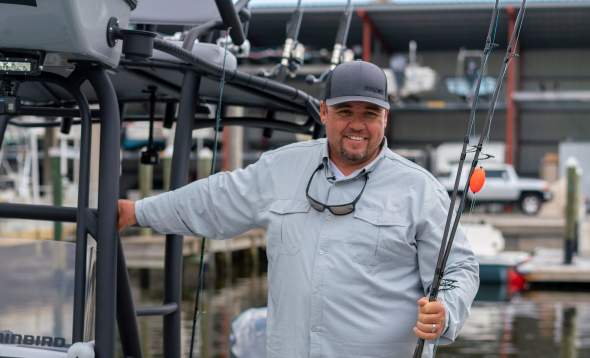 Fishing is one of the most popular activities in Punta Gorda/Englewood Beach. And with fresh water, saltwater, backcountry, deep-sea, lake, river, harbor, beach, dock, and even more types of fishing available, it's easy to see why. While you're welcome to hit the water on your own and find the perfect fishing spot, booking a charter fishing trip is a great way to explore the area and ensure you reel in a fish worth talking about. That's where Capt. Jay Withers with Silver Lining Charters comes in. With about 18 years of fishing guide experience in Charlotte Harbor alone, Captain Jay knows what Outsiders want out of a fishing trip.
So we know you're not from the area. What brought you to Punta Gorda/Englewood Beach and Charlotte Harbor especially?
I first moved to the area by literally finding Charlotte Harbor on the atlas, back when we used the atlas, and I fell in love with the look of it. I knew I wanted to live on a large body of water. And when I came and visited, I honestly didn't even fish in Charlotte Harbor. But I hung out in the local tackle shops and went and looked at some properties, and then went back to Ohio to convince my wife to move down here so I could be a full-time fishing guide.
Did you have any fishing guide experience?
I wasn't a professional, full-time fishing guide like I am now, but I did a lot of fishing. Maybe not as much as I wanted to, which is why I moved to Punta Gorda/Englewood Beach. I had a completely different business, and I was tired of wearing suit and ties and French cuffs for a living, and figured I'd trade it for flip-flops, shorts, and t-shirts.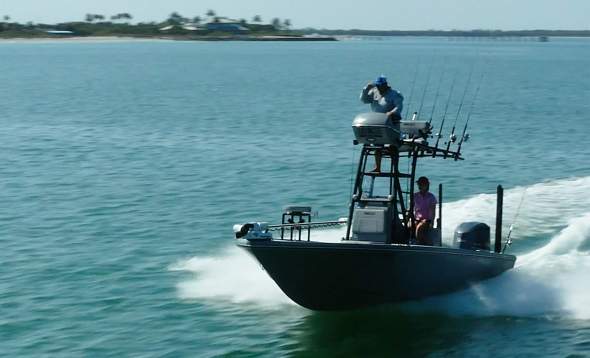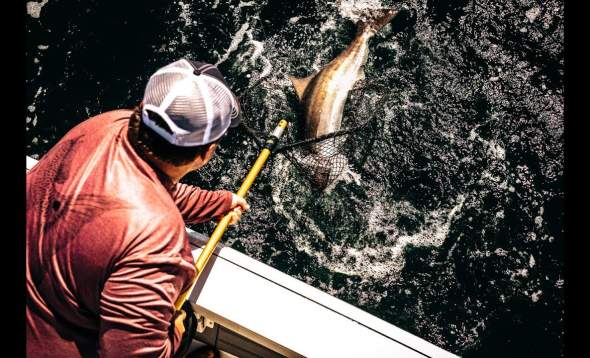 What do you like about Punta Gorda/Englewood Beach?
It's got that small-town feel, but there's still a lot of activities. Being a fishing guide, I get to share my world, the outside, with people visiting the area. But there's lots of things to do inside. Small, little, quaint shops. Downtown Englewood. And the people down here are amazing. You don't have that big city feel, but that small town feel all the way across the area.
Who is Silver Linings Charters for?
My charter service caters to really just about everybody, from the novice to the experienced angler. We do a lot of family fishing, but I also guide the hardcore fly anglers who want to target some backcountry rolling tarpon. There's a fishing scenario for really anybody who wants to come down and visit.
What can people expect to experience while on a fishing charter?
I try to give everyone a full experience. Certainly fishing is part of it, but I want you to experience what Charlotte Harbor has to offer: backcountry, the aquatic preserve, the beautiful nature we see here every day. I don't want to take that for granted, and I want to share that with people that come down. Especially people who are in the daily grind back at home. I want them to see what I see every day, from the sunrise to the wildlife, the birds, the dolphins, the manatees, and everything else. Of course we want to catch some fish, and we have a lot of fun doing that, but it's the full experience I want to offer all of my clients.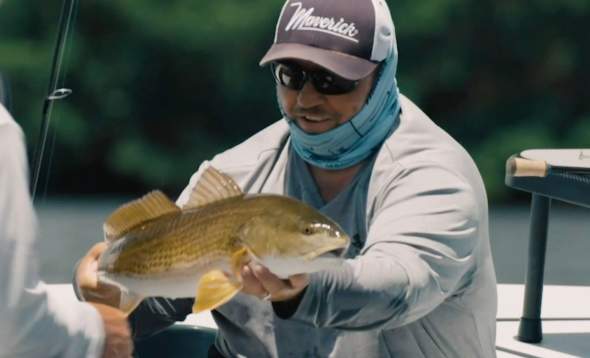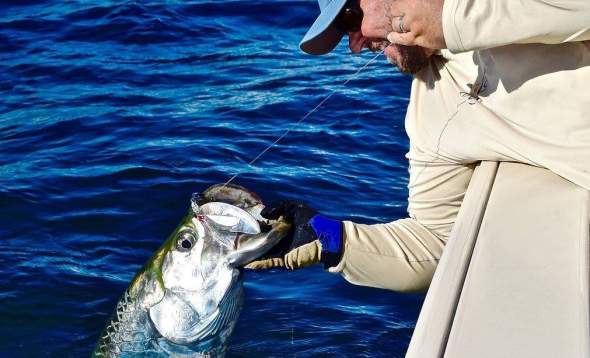 We know tarpon fishing is big in Punta Gorda/Englewood Beach. What is it about tarpon fishing that you like, and what makes it so popular?
Well, when I first moved here I was fishing around the 41 bridge in Punta Gorda. I set up there in my first little flats boat, and I jumped my first tarpon. That's what really hooked me into tarpon fishing. I wasn't really prepared for it, as most people that hook a tarpon for the first time are not prepared for it either, but seeing that enormous fish jumping out of the water had me hooked from day one.
What do you like about fishing in Punta Gorda/Englewood Beach, and what makes it different?
Fishing in Punta Gorda/Englewood Beach is about getting away from the hustle and bustle of city life. We have a very unique ecosystem here with the aquatic preserve and Gasparilla Sound where it's just full of islands and lots of little creeks. The fishery itself is really impressive. And a lot of it is two feet deep or less. So a lot of my clients have a hard time wrapping their heads around that all this incredible fishing we'll be doing is in about two feet of water or less. And that's what sets fishing here apart from anywhere else.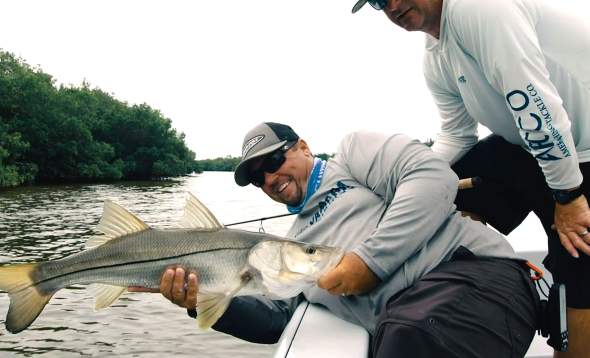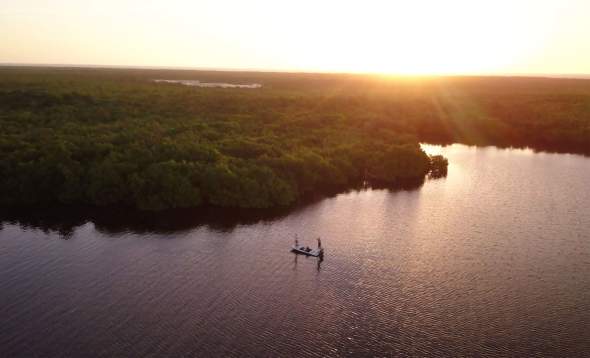 Because the natural environment is so important to you and your business, what are you doing to help preserve it?
I'm involved with a lot of different conservation efforts and organizations dedicated to keeping Charlotte Harbor the beautiful area that it is. I'm involved with CCA (Coastal Conservation Association) and Sea Grant. We tag redfish, do fish counts, and conduct grass studies. I work closely with these folks because on a daily basis I get to see the changes in our environment. In the time that I've been guiding, I've been able to address issues I'm seeing out here every day with these groups and help preserve Charlotte Harbor for future generations.
What else should people do after they've done some fishing with Silver Lining Charters?
People ask me all the time what they should do next after a fishing trip. I tell them to go check out Peace River. Follow it north and get into some natural, untouched regions that represent "Old Florida" where you'll find alligators, Cypress trees, Spanish moss, and even airboat rides.
Finally, why do you think we take vacations?
I think we take vacations because we want to get away. We don't want to wear that day-in-day-out suit we have to wear. Whether you're fishing or just at the beach, you want to relax a little bit. We work so hard all year, and you might get maybe two weeks out of all that to relax, and I think this is the place to do it.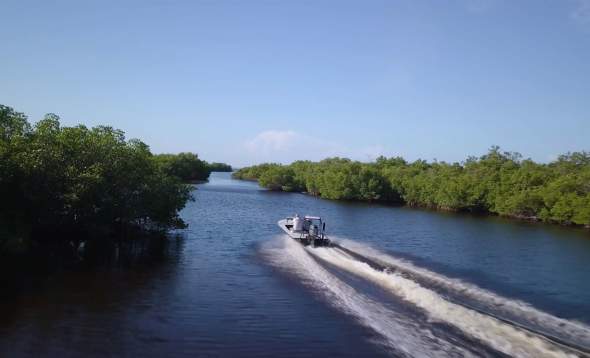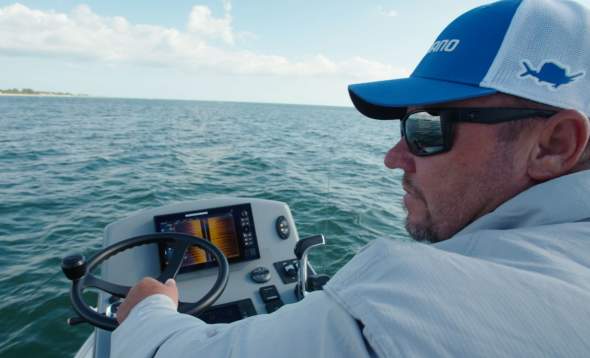 A big thank you to Capt. Jay for taking the time to speak with us. In addition to his fishing charter, Silver Lining Charters, he's the host of the award-winning web show, Guidelines TV. When you consider Capt. Jay's passion for conservation and for fishing and the outdoors, it's clear he is an Outsider. Maybe you're an Outsider too? If so, we hope you're inspired to learn more about Punta Gorda/Englewood Beach, where we say, "Outsiders Welcome."
Start Planning