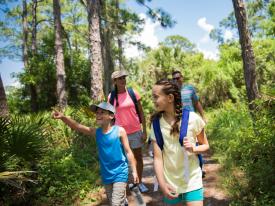 For many, the word "hiking" means climbing mountain paths, but it can mean anything from navigating a shell-scattered nature path to enjoying the healthy workout of walking barefoot on the beach—and everything in between—in Punta Gorda/Englewood Beach.
A few reminders before you head out:
Always bring a fully charged phone and charger, both for communication and to take lots of pictures and video.
Dress for the weather and wear the right shoes for the trail.
Bring plenty of water, energizing snacks, a first-aid kit, and sunscreen (plus bug spray in season).
Check trail conditions, especially during rainy season, and be sure there are no active weather advisories before you head out.
Now it's time to get out there! Choose one or many of these 7 trails and nature areas to help get you started down the right path (as it were!).
If you're into Birding, grab your gear because every location, with the exception of the beaches, are within the Great Florida Birding Trail: 

1. Tippecanoe Environmental Park
This gem is hidden in plain sight behind the Charlotte Sports Park (where we host spring training for the Tampa Bay Rays). Featuring well-maintained and ADA-accessible trails and restrooms, Tippecanoe is an oasis of natural landscape not far from central Port Charlotte.
With 7 miles of trails with various loop options, you can walk for miles without repeating a view.
 
2. Babcock/Webb Wildlife Management Area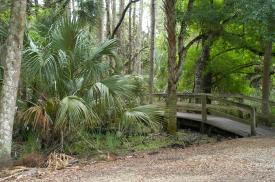 With 37 miles of (mostly unpaved) roads, even driving through Babcock/Webb feels like a hike. Their Cowhunter Trail is 1.41 miles of beautiful views meandering past ponds and marshes where alligators and wading birds are common.
Webb Lake Road features even more lovely views and great bird watching. As always, never approach or attempt to touch or feed the wildlife.

3. Amberjack Environmental Park
With three trails through different natural environments, including pine flatwoods and scrub habitats, Amberjack is a great spot for those looking for more of a workout.
The trails can be rugged in sections, with uneven terrain and elevation changes, which means some decent challenges.

4. Charlotte Harbor Preserve State Park
In addition to a variety of trails through different ecosystems, including longer trails across varying terrain, Charlotte Harbor Preserve is the place to go for pure nature. The park offers access to truly "remote and primitive wilderness." In fact, the website advises: "Visitors should take a compass, a map and sufficient water for their trip. No restrooms or drinking water are available."

5. Charlotte Harbor Environmental Center (CHEC) – Alligator Creek
Located within the Charlotte Harbor Preserve, on the south side of Punta Gorda, CHEC - Alligator Creek offers a Visitor's Center, environmental education, guided hikes, and 4+ miles of marked trails. This is a great spot for families to get outdoors and explore the natural beauty of the area.

6. Cedar Point Environmental Park
With a mix of trails that wind through pine flatwoods, tidal marshes, and along Lemon Bay, Cedar Point is an oasis on the water. Some of the trails are more challenging due to their natural surfaces, and there are often tree roots and other obstacles to navigate. The park also features scenic views and lots of wildlife.

7. Englewood Beach and Stump Pass Beach State Park
There may be no better exercise than walking on the beach. The tranquil views and the surf sounds may inspire you to keep walking until, next thing you know, you've had a full workout!
Located at the south end of Manasota Key, with access to Lemon Bay and the Gulf of Mexico, both Englewood Beach and Stump Pass Beach State Park are easy to get to and not crowded. You'll see plenty of sea birds, the renowned lucky "shell trees," and maybe even some parasailers out on the gulf.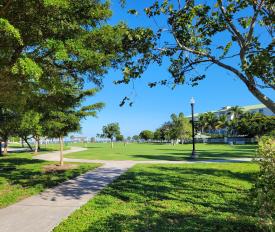 The view of Stump Pass from the southern point of the park is not to be missed.  
If you're looking for more of an amble or a stroll, you can find plenty of wide, paved paths in our wonderful parks—many with water views.
With all these options, you're sure to find your perfect trail, so here's to many enjoyable hikes in Punta Gorda/Englewood Beach!