Our beautiful beaches are a huge draw, but there are also many activities to experience and sights to see away from the sand and surf. When you want to do something other than go to the beach in Punta Gorda, Port Charlotte, or Englewood, explore below for some inspiration on how to spend your non-beach time in Punta Gorda/Englewood Beach:
 
Enjoy the Ultimate Old Florida Eco Tour
Experience real Florida with the Babcock Ranch Eco-Tours 90-minute buggy tour through a working cattle ranch and Telegraph Swamp. Wildlife sightings vary and can include white-tailed deer, Osceola turkeys, wild boar, and of course, alligators. There's also a good chance you'll meet some of the resident cracker cattle.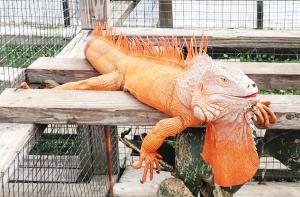 Visit the Largest Reptile Zoo in the World
IguanaLand in Punta Gorda has 230 reptiles on exhibit! From iguanas and chameleons to tortoises, turtles, monitor lizards, and more, there's a fascinating creature around every corner. IguanaLand offers a variety of experiences: explore on your own, try the Animal Encounter to get up close and personal with the animals and maybe even handle and feed a couple, or go for the VIP for an amazing behind-the-scenes tour. 
 
Fly!
For excitement and views like no other, think about jumping, as they say, "out of a perfectly good airplane" with Skydive Southwest Florida. Safety comes first and all jumps are tandem with experienced professional skydivers. There's also a viewing area for family and friends.
Learn About the Past
The Military Heritage Museum has a mission to "promote an understanding and respect for the rich military heritage of the United States and the sacrifices made by our country's veterans, living and dead, emphasizing that freedom is not free." Thousands of military artifacts dating back to the Spanish-American War and continuing up to current conflicts are on display, along with thousands of infographics and audiovisuals, but that's not all. There are also flight and ship simulators and virtual reality experiences and live performances. The museum is made possible by the more than 75 volunteers—many of whom are veterans—who give their time. 
Experience Wildlife Up Close and Personal
The Peace River Wildlife Center in Ponce de Leon Park provides tender care to native Florida wildlife that have either been orphaned or injured. Residents on display cannot be returned to the wild and have a comfortable home at the center educating the public about native wildlife. Residents include gopher tortoise, marsh rabbit, and a variety of birds like bald eagles, black vultures, ibis, and more, plus ambassadors Luna, a rare leucisitc eastern screech owl, and Bella, a great horned owl.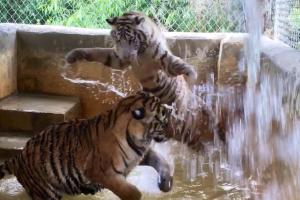 Visit at 2:30 pm to see the pelicans being fed, it's quite the sight! 
The Octagon Wildlife Sanctuary is open for private guided tours that will get you up close (from at least 6 feet away, that is) and personal with lions and tigers and other big cats, bears, primates, wolves, and many more exotic animals. Octagon is a "retirement community/nursing home" for animals who have been rescued or relinquished.
 
Savor the Flavors
With well over 100 independent restaurants—and counting!— in there area, there is literally something for everyone. Whether you're looking for a hearty breakfast, a light lunch, a gourmet dinner, or anything in between, from pub bites to fresh seafood to artful sushi or traditional recipes, you'll find plenty of great restaurants to enjoy.
 
Revel in Art Meeting Mother Nature
A 50 million-year-old stone fossil of a palm frond taken from a mountain top in Wyoming serves as the inspiration for the logo and signature sculpture of Peace River Botanical & Sculpture Gardens. More than a dozen large-scale sculptures adorn the landscape of the 27-acre property along with flowering trees that bloom throughout the year and countless amazing botanicals. Don't miss the butterfly pavilion and be sure to feed the koi. 
 
Ride Green, Ride Free, Ride Like the Wind!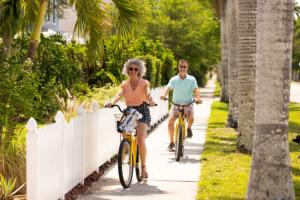 Punta Gorda has been recognized as a "Florida Bike-Friendly Community" by the Florida Bicycle Association as a result of their volunteer organization, TEAM Punta Gorda, offering a complimentary Bike Loaner Program. To enjoy a bicycle for an hour or a day, you'll need a credit card, driver's license (copies made for collateral) and signature of waiver. Bicycles are offered on a space-available basis at various downtown locations: Four Points by Sheraton, SpringHill Suites, Fishermen's Village, and Becky's Garden Shoppe. Once you've got your wheels, explore the Punta Gorda Pathways, an 18-mile loop trail connecting pedestrian and bike paths around the city.  Bicycle routes are marked and range in length from 17 to 31 miles. 
 
Take it Inside, Then Break Out
Are you good at solving puzzles? If so, an escape room experience should be in your future. This family-friendly activity is a creative indoor adventure where a group of people work together to solve a mystery in less than an hour. Charlotte County has two escape rooms, Escape Rooms Unlocked (in Punta Gorda) and Escape Port Charlotte. 
 
Eat, Shop, and Cruise the Harbor
Whether you're buying a souvenir or treat for yourself or a gift for someone special, the unique gift shops and boutiques at Fishermen's Village will provide plenty of inspiration. After all that work shopping, enjoy lunch at one of their numerous waterfront restaurants. You're very likely to catch some great live music while you enjoy your meal. Then it's time for a sunset cruise of the harbor with King Fisher Fleet. Don't forget to save room for something sweet at one of the treat shops. 
 
Browse Galleries and Chat with Artists
Punta Gorda/Englewood Beach is home to hundreds of talented artists and any day is a great day to get into some of the galleries to browse creative artwork and speak with the artists. Some galleries include:
This is a short list of things to do away from the beach in Punta Gorda/Englewood Beach. Explore the rest of our site for lots more to do!