It's time for sunscreen, fresh air, and smiling faces in Punta Gorda/Englewood Beach! For relaxation, rejuvenation, and just plain fun, there's no place better.
 
Refreshing Water Adventures
Indulge in some "liquid refreshment" of a different sort with water activities of all varieties, from sunset or nature cruises to fishing charters and luxurious sailing excursions. Or, learn to pilot a zippy little 2-person catamaran or take it a bit slower on a paddleboard jaunt or a "mermaid tour" in a glass bottom kayak. You can even rent a boat or a jet ski to explore on your own. Or maybe it's time to try parasailing!
With a gorgeous view whichever way you look and seemingly more wildlife than people, Punta Gorda/Englewood Beach is a wonderful place to revel in the beauty of nature while exploring the wonders of our waterways.
Speaking of water, Englewood Beach is the perfect place to take a dip and a nice, deep breath while enjoying the tranquility of a yet another incredible vista. Don't worry about bringing your own equipment; you can rent practically anything you may need to enjoy your beach day/s from the onsite vendor, including umbrellas, chairs, skim boards, and more. And, with five great restaurants within walking distance, you don't even have to leave the beach!
 
Food and Fun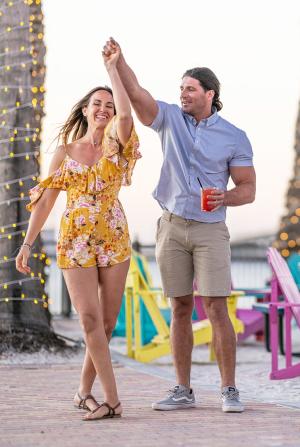 When it's time to refuel, there are plenty of places to eat and drink and be entertained right nearby. Live music abounds, as do the sunsets! As the delightful days draw to a close, it's time to enjoy a night on the town. Indulge in a tremendous meal at one of the many local restaurants featuring live entertainment and inventive menus. You're sure to find the perfect place to dance up a storm while enjoying a gourmet goodie.
Don't forget to try out some of the land-side restaurants and activities that stretch from one side of Punta Gorda/Englewood Beach to the other. Start at Winesett House in Punta Gorda to enjoy live entertainment, tasty food, and a fun atmosphere in a beautiful open-air space. Head north across the bridge to Brother's Fish House for amazing seafood. They get rave reviews for, well, the whole menu! Keep heading north to the Twisted Fork in Port Charlotte for truly creative and scrumptious comfort food and even more live entertainment in a fun and inventively-decorated environment. Pop over to Englewood to explore nature with SUP Englewood, which offers eco-trips (on paddleboard and kayak) and standup paddleboarding  lessons.
It's time for toes in the sand and faces turned to the sky, for ice cold drinks and stunning skyscapes, for sleeping-late lazy days and up-with-the-sun adventures. It's time to visit Punta Gorda/Englewood Beach, to relax and let the world see your smile.