Anytime is a great time to hit the sand in beautiful Punta Gorda/Englewood Beach, Florida, and with a little preparation, every family can have a great day at the seaside.
Our beaches are waiting for you, and here are seven tips (plus a bonus!) to help get your family beach-ready:
Sunscreen
We all know how important sunscreen is, so this is just a reminder to bring plenty of it with you. The spray kind is great for kids who may not want to hold still for traditional sunscreen lotion, but be sure you cover every inch of them. Also, remember to apply 15 minutes before sun exposure, and to reapply after swimming, toweling off, and every 2 hours, even if no one is getting wet. 
 
Snack Packs
Even if you're planning to have lunch at one of the restaurants very close to the beach (and you should!), you want to be sure to pack some snacks for your beach day. Make your cooler easier to carry and less messy by freezing snacks like grapes, fruit cups, drink boxes, ice pops, berries, nuts, etc., and using them instead of (or in addition to less) ice. Also freeze a few bottles of plain and sport water and some V8, juice boxes, etc., so everyone can have a refreshing cold drink and replenish electrolytes.
Put your frozen water and snacks (with or without additional ice) in the bottom of the cooler and add a layer of paper towels, then pack your lighter items—like chips, sandwiches, trail mix, etc.—on top. Not only will the paper towels keep those items from getting soggy, they'll serve as a quick, convenient clean-up and cool-down.
Also, don't forget to pack a bag to put all your trash in!
 
Toys As Tools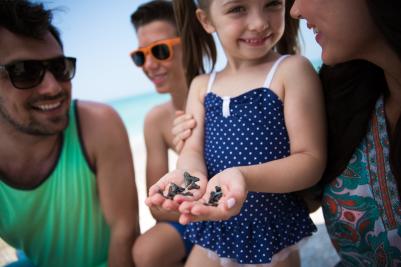 Our beaches offer skimboarding, snorkeling, sandcastle building, shelling, and world-class lounging. There is, however, one activity many of our visitors especially love: hunting for fossilized shark teeth. Tooth size varies, but you'll likely find teeth about the size of a dime or nickel. While there are plenty on the surface of the sand, usually among shells and seaweed, sometimes the best finds take a little digging. That's where sand toys come in! Plastic shovels, buckets, and sieves make it easy to dig and sift through the sand to find fossilized teeth worth bringing home.
If you need anything else, see the onsite vendor to rent chairs, umbrellas, and more.
 
Picture Perfect
Improve your beach pics by making sure the sun is behind the camera. That is, if you're taking a picture of someone, make sure the sun is behind you. If you're taking a selfie, make sure the sun is in front of you.
Also, if you're posting pics on Instagram, please tag us @RealPureFlorida and include the hashtag #BestSideOutside to let everyone know where you're having your amazing beach day.
 
Bag It
Bring along a large mesh laundry bag to carry sand toys, wet towels, etc. The mesh will allow the items to dry—and provide a way for most of the sand to fall out before you get to your car.
Also, don't forget to pack a few smaller plastic bags for the treasures you'll find on the beach!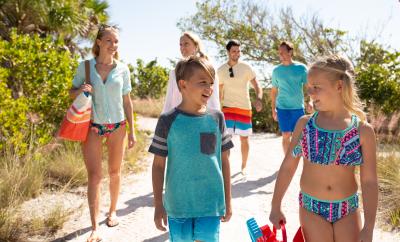 Water on Your Mind, but Not in Your Ears
No one wants water in their ears, especially long after you've left the beach. Also known as swimmer's ear, water left in the ear canal can cause all sorts of problems, including not being able to hear people compliment your lovely tan! Here are two tips to help:
Bring along a deflated balloon, and once you're all done with splashing in the beautiful Gulf of Mexico, blow up the balloon. As you gently inflate the balloon, the water will slowly and safely trickle out of your ears.
The second method takes a little bit of prep work, but it's really the be-all, end-all of remedies. Create a solution of half Isopropyl alcohol (rubbing alcohol) and half white vinegar. The alcohol evaporates the water while the vinegar prevents bacteria from growing. Tilt your head to the side, put three or four drops of the solution into the ear, wait about 30 seconds, and then tilt your head to the other side to allow the solution to drain out.
 
Dusting Off
Pack a small container of cornstarch to remove sand from sensitive skin with no irritation. Sprinkle a bit on the sandy areas, wipe off, and go!
Bonus Info
Parking at Englewood Beach is $.75 an hour and is payable via the free ParkMobile app.
 
We hope these tips will help you and your family enjoy the outstanding beaches of Punta Gorda/Englewood Beach. Here, our best side is outside, and after spending a few minutes on the beach you'll see why. The area also offers incredible opportunities for kayaking and paddleboarding, fishing, boating, waterfront dining, hiking, birding, biking, golf, and much more. This is the quintessential Florida outdoor experience, and we can't wait to welcome you. #BestSideOutside #WeAreBeachReady