A trip to the beach is an adventure for one and all and a true treat, especially if you live in a land-locked area. Time spent enjoying the views, swimming in warm clear waters, and searching for pretty sea shells and fossilized shark teeth is the ultimate vacation from, well, everything!
To make your beach getaway the best it can be, we've compiled a handy list of the essentials to pack in your beach bag:

Wearables
The Southwest Florida sun can be intense, even for us locals! We are masters of knowing the ins and outs of what you'll need to have an unforgettable day. We recommend the essentials of a coverup, sunglasses and hat for any adventure to the beach. If you plan on spending the day, you might want to pack a change of clothes for each person so you have an option to change after a quick shower to get rid of the salt and sand. Don't forget life jackets and/or floaties for the little ones and novice swimmers.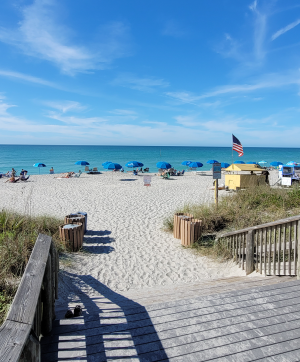 You may also want to provide a shaded area, whether an umbrella for one or two people or a canopy for a family-sized group.
 
Sun Protection
It goes without saying but also can't be said enough: bring plenty of sunscreen. The key to getting the best sun protection is to remember to put in on before you get to the beach—20 minutes prior to sun exposure is the recommendation. SPF lip balm is also an essential to pack, those lips are sensitive!
If someone's skin appears to be burning, that's the sign to cover up. The redness will intensify later in the day along with the tenderness.
Other items to include "just in case":  a basic first-aid kit with band aids, cleaner and antibiotic ointment, tweezers, eye wash, your favorite pain reliever, and possibly bug spray if you're going to be there during dawn or dusk hours. You might include a package of cooling face wipes, tissues in case of runny noses, and a brush or comb and extra hair ties or hair clips if needed.
 
Comfort
Towels, towels and more towels. Make sure you have at least one towel for each person plus a few extras in various sizes. A foldable hand fan always comes in handy, as well. If you don't want to sit on the sand, nothing beats a lightweight foldable camp chair, or rent a chair from a vendor on the beach. 

Collecting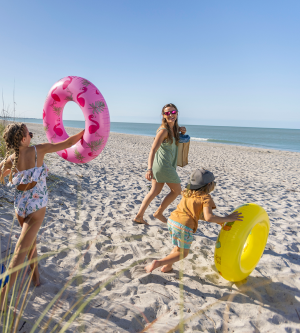 A mesh bag for shells and fossilized shark teeth is essential. If you're concentrating on fossilized shark teeth, a sieve to sift for those little black triangles will be your best tool.

Playtime
Sandcastle building is easier with a bucket and shovel. Floats and snorkel equipment and flippers are fun, too!
Here's to a great day at one of our beautiful beaches!