Harborwalk in Punta Gorda is an outdoor adventure buffet from end to end. I am about to taste its delights. While gathering my camera, sunhat and sunglasses a couple walks by my parked car, straw hats at a jaunty angle, a bounce in their stride and water bottles by their sides. Their body language says they've done this walk before and it is good.
I get out of the car and follow their lead.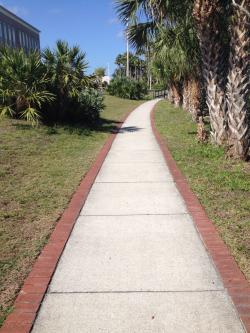 Harborwalk is part of the Punta Gorda Pathways program. All segments are pedestrian, bicycle and pet friendly.  Going from Fishermen's Village (where I started) to Bayfront Health (about 3 miles one way), Harborwalk wanders through city parks, past mangroves, playgrounds and picnic tables. Add fishing piers, restaurants, a marina and several memorials.
Several times I can stay on a straight pedestrian walkway or take a meandering route, also paved, closer to the shoreline. I choose to meander.
Every step of the way I inhale the tang of salt air and spoil myself with gorgeous views of Charlotte Harbor.
Children shout from playground equipment at Gilchrist Park. Bicycle riders call out "on your left".  
I see two folding chairs set up under shade trees next to the fishing pier – a great place to watch harbor action.
Opening a picnic basket, a man removes a red-checkered tablecloth and snaps it open over a picnic tabletop. Ah, lunch, al fresco.
After going under one US 41 bridge, I stop outside at  TT's Tiki Bar  at the Four Points by Sheraton to take a break with an Arnold Palmer (lemonade and iced tea).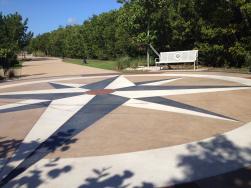 Walking under the second bridge I come to Laishley Marina and visit Downtown Bait & Tackle Shop. Here I learn shrimp is the bait of choice.
I pencil in "come back soon and go fishing off the pier."
Passing Laishley Crab House, I continue on the pathway reading the Bent Tree memorial story then walking along the seawall. The pathway turns left into the mangroves, a shaded area with occasional benches. At cross streets beautiful compass rose designs are embedded into the sidewalk.
Harborwalk ends at Bayfront Health. I meet a walker who tells me he walks Harborwalk three times a week because it is so beautiful. I believe him. I'll be back.