Punta Gorda's culinary vibe encompasses everything from casual elegance and gourmet palate pleasers to homey, family-friendly atmospheres and new twists on old favorites. Taking advantage of the many great outdoor eating spaces—ranging from gardens to rooftops to terraces and patios—also means lovely views, eye-catching scenery, and world-class people-watching.
Below are some of our favorite Punta Gorda eateries offering unique outdoor dining. All are kid friendly and some are "furry" children friendly too. Check them out when you're here, and enjoy every delicious minute: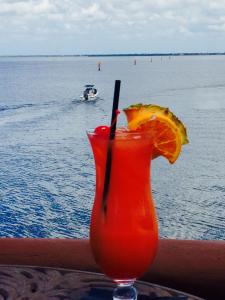 There's no better way to feel top-of-the-world than to indulge in the tasty tapas menu and a signature cocktail at Perch 360 atop the Wyvern Hotel. With greenery all around, cozy cabanas, pleasing décor, and astonishing views of the entire area, you won't soon forget the experience.
The Celtic Ray Public House is an authentic Irish pub with a roomy outdoor beer garden and a menu chock-full of genuine homemade Irish food—their Fish & Chips are famous—as well as their weekly curry, small plates and kid's items. The beer garden is dog friendly, and with frequent live music, it's fun for all.
As if the mouthwatering fine dining menu at The Captain's Table on Charlotte Harbor weren't enough, the view from their open-air balcony can't be beat. Sitting right over the water and savoring incredible food while enjoying an unobstructed view of the harbor and our incredible sunsets is an excellent way to spend some time.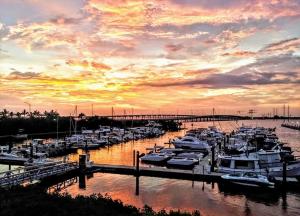 Laishley Crab House boasts a large covered outdoor terrace offering stellar views of the marina, the Peace River, the scenic Punta Gorda bridges and, if you time it right, one of our amazing sunsets. The menu is varied, with seafood, sushi, salads, burgers, and more.
Carmelo's Italian Ristorante is consistently on the Best and Top lists in the area for their food and ambiance. Their secluded garden patio lends itself equally to family feasts and romantic meals for two. Their "Bambini" menu features plenty of kid-approved favorites, from chicken fingers to spaghetti.
Riviera Bar and Grill is located right on Alligator Creek and its cozy outdoor patio is a nice place to boat-watch. They also offer docking so you can pilot your own vessel over. With a considerable selection of seafood, burgers, chicken, and a small-but-tasty kid's menu—as well as frequent live music—this is the perfect place to take your time over your meal, enjoy the view, and truly relax.
All in all – the options exceed our blog space, and we invite you to explore more places to dine here.