Gulf of Mexico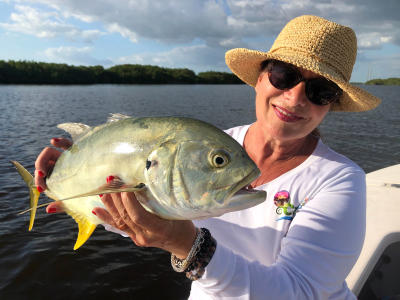 Our annual Fall king mackerel run usually peaks this month. School-sized kings are fish in the five- to fifteen-pound range that travel in bunches. Action on these guys can be fast and furious and can occur anywhere there are schools of baitfish from ten feet of water just off the beaches on out to 30 miles or more offshore. Bigger kings tend to travel in smaller bunches and the true smokers, fish weighing 30 pounds or more, are often solitary fish traveling alone. They can be taken around those baitfish schools as well, but are also often found around offshore wrecks, artificial reefs or sometimes over ledges or hard bottom. Don't be surprised if you catch other fish while hunting kings because bonita, Spanish mackerel, sharks, blackfin tuna, huge jack crevalle, and sometimes even jumbo redfish may also be found chasing the same baits. 
Spanish mackerel, fish that run in the one- to four-pound range, are smaller cousins of the king mackerel and should be thick along the coast this month with the best action usually found around the passes and inlets. Bluefish, ladyfish and blue runners will often be found mixed with Spanish mackerel and when this happens it can result in unbelievably hot action on small spoons or jigs. 
Bottom fishing for gag grouper typically picks up in November on the shallow ledges in less than 60 feet of water, negating the need to travel many miles out over the horizon in search of a fresh grouper dinner. Check the red grouper season dates at MyFWC.com. 
 
Charlotte Harbor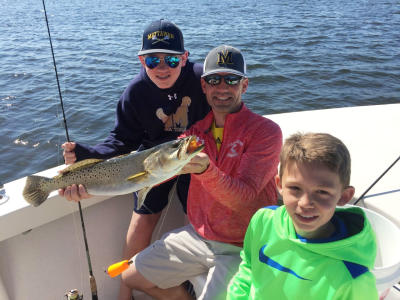 November is typically one of the best trout months in Charlotte Harbor, and if the season is open, try the flats around Burnt Store Marina and on the west side of the harbor up to the mouth of the Myakka River. A popping cork and live shrimp rig is hard to beat as a trout-prospecting rig in two to four feet of water.
The open waters of the harbor up to the bar edges usually see frenzies of Spanish mackerel action this month. Look for working, screeching birds or you might see the mackerel leaping after baits in their trademark rainbow arc. You may also catch ladyfish and jacks mixed with the mackerel since they're after the same herrings, anchovies, and sardines that attract the mackerel.
One of our most famous winter fisheries is sheepshead, and November is when they begin to gather in pre-spawn schools around rocks and pilings. There are usually enough of them bunching up this month to be worth targeting, but the fishery will really take off as cooler weather moves in.