I love to visit somewhere that I've never been to before. As a first-time visitor to the Charlotte Harbor region I found a lot different types of adventure options to choose from.
 
Punta Gorda
Take your Taste Buds on a Culinary Adventure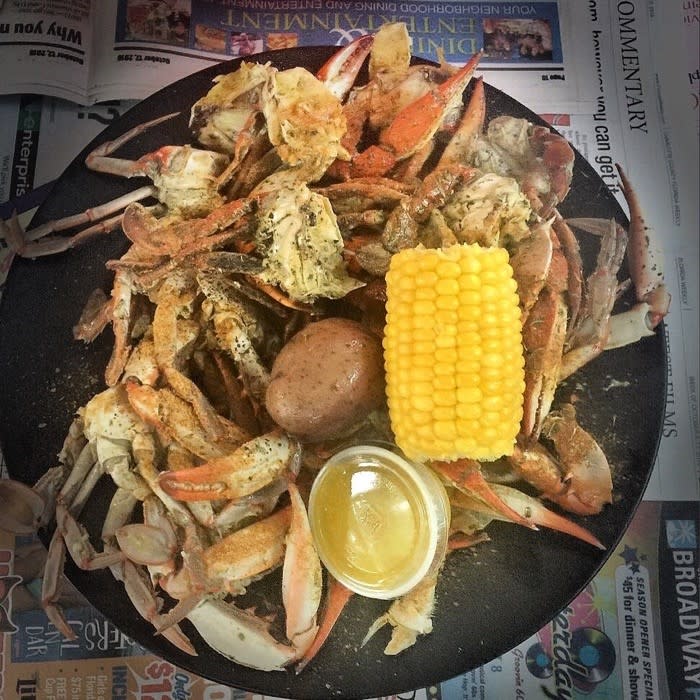 One of my favorite ways to experience a city is by discovering their local food. Punta Gorda did not disappoint! We began our visit at Leroy's Southern Kitchen and Bar where I enjoyed a dish with a great mix of flavor and heat. 
I would also suggest finding the local favorites that are off the beaten path like Peace River Seafood and Botanicals. You know the blue crab is good when people who are from Maryland drive hours to eat here. The walls are also lined with dollar bills everywhere. The tradition started with phrase, "If I had a dollar for every customer who told me they were from Maryland," and the walls tell that business has been good! This boat-to-table restaurant doesn't have it to serve if they didn't catch it. Now that is fresh!
Enjoy a free distillery tour and rum tasting and learn more about the rum making process on a tour at Alligator Bay Distillers. Their "Dark" Rum was my personal favorite. Another local option with a great atmosphere is Peace River Beer Company. 
 
Take Advantage of the Free Bike Share
This absolutely blew my mind because Punta Gorda is the first city that I've visited with a free bicycle loaner program. You can check out a bike at one of the locations, sign a waiver, allow them to copy your ID and a credit card, and then return the bicycles to the pickup location 30 minutes before closing or sunset.
 
Discover Art
You can find art several different ways in Punta Gorda. Visit a gallery or take a tour of the historic murals that are on buildings throughout downtown with an official Punta Gorda Historic Mural Society tour. Each mural has an interactive QR code you can activate using your mobile phone. You can also or search for all of the creative bicycles that are decorated throughout the city in front of businesses. If you find a mural with a bicycle in front of it you get double points.
 
Take a Sunset or Nature Cruise
You'll see some  incredible sea life during a King Fisher Fleet cruise! I'll never forget the moment that we watched a family of dolphins riding the wake of our boat. Those baby dolphins made my day and were my favorite part of our adventure! If you're looking to go fishing, there are plenty of charter captains all around the area.
 
Englewood
Relax and Enjoy 
I would describe Englewood as one of Florida's best kept secrets. It's not your typical tourist destination because you don't see a lot of attractions and tourists shops saturated in the area. The atmosphere in this community is very laid back. The crowds are lighter which allows you to just enjoy nature and the local restaurants nearby with great seafood.
 
Try Paddleboarding 
I'm all about stepping outside of my comfort zone which is why this adventure was both exciting for me and also made me a little nervous. I've tried SUP before, but not in water located near the ocean. The beauty of taking a SUP (stand up paddleboarding) tour is that you can do whatever you are comfortable with. My husband found certain positions on the board to be more comfortable than others due to an old football injury, but the impressive part was that he tried it for the 1st time and discovered what worked for him. Another perk of a SUP tour is that your guide know where and what to look for in and around the water. There are also other kinds of paddling, like kayak and canoe tours.
 
Enjoy the Beaches
Stump Pass Beach State Park is so peaceful and offers a unique landscape with trails and lots of tree stumps along the shoreline. You might notice several areas marked off on the beach that are designed to protect the sea turtle nests. If you get the opportunity to watch one hatch or return to the ocean, depending on the time of year that you visit, you will have the memory of a lifetime. There are many types of birds in the state park and you also might see a few starfish, a manatee, dolphin, or a really big fish.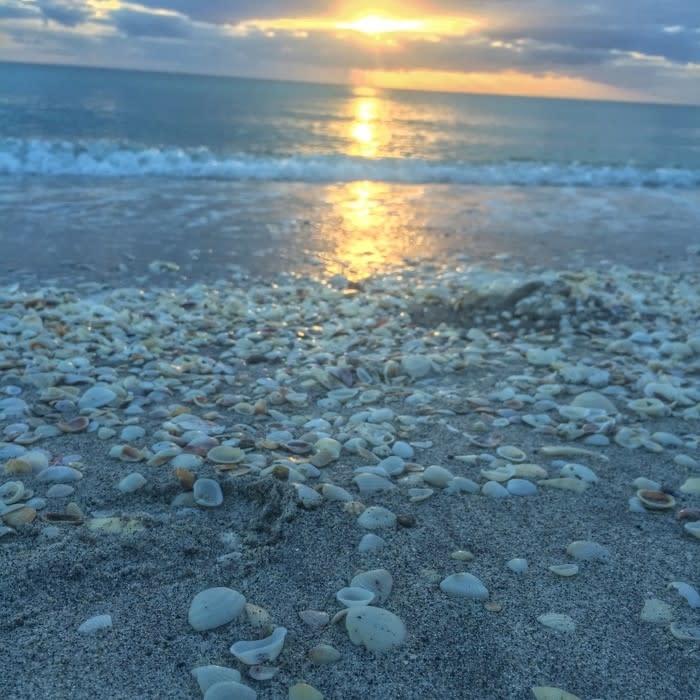 Just a bit north is Englewood Beach, which is full of beautiful shells and fossilized shark teeth. You can easily make an adventure out of finding the most unique seashell to take home with you to remember your wonderful visit.
 
Learn from the Locals
I really enjoy talking to locals when I visit a destination. During a conversation with a local, you might find out about a gem that you might have overlooked otherwise, such as their favorite breakfast spot. You will also get a greater understanding about their community and why they are passionate about their business or hobby.
 
Enjoy Golden Hour
I recommend waking up early to watch the sunrise at least once during your visit and make sure that you also make a point to watch each sunset. They are very unique and magical, every. Single. Time.
I've found that the best way to seek adventure at a destination is to stay curious and be open to trying new things. Punta Gorda/Englewood Beach definitely has you covered.