A good rule of thumb for any vacation is to eat where the locals do. Since you may not know any of our locals (yet), we'd like to share a few of their secrets to get you up and at 'em with a great breakfast, or relax you with the best brunch in town:
 
Punta Gorda
Perch 360: Enjoy the ultimate views of Punta Gorda and Charlotte Harbor at Perch 360, atop The Wyvern Hotel. Their menu features a tasty mix of standard breakfast items with lighter options and their own brand of Benedicts.
Burg'r Bar: The perfect spot for a hearty breakfast in a relaxed atmosphere, this local favorite features a wide range of choices and friendly service.
Most restaurants that serve breakfast, like Dean's South of the Border and Elena's Restaurant, will also satisfy that brunch Punta Gorda impulse, so be sure to explore!
 
Port Charlotte
Zoe's Sweet Kitchen: Enjoy specialty waffles, breakfast sandwiches, "Eggs in a Big Fat Blanket," and more. Their a la carte menu makes it easy to build your own best breakfast.
Little Good Times Diner: Enjoy the homey feel, the friendly service, the traditional diner atmosphere, and the tasty food in this family-run spot. We have it on good authority: the omelets are big, the potatoes are very good, and "try the Oatmeal Crusted French Toast."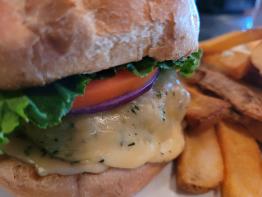 To brunch Port Charlotte with a unique twist, head to Prime Serious Steak for their Sunday Burger Brunch, noon–4 pm, or enjoy a hearty meal at a local institution, Joseph's Deli.

Englewood
Good Times Diner: This family-owned local treasure offers an extensive breakfast menu full of classics, Mexican breakfasts, specialty omelets, and more, including daily specials. 
Zarate's Family Restaurant: This family-style diner offers tasty and creative breakfast specials like Coconut French Toast and The Cobb Omelet, as well as a welcoming atmosphere and good food. It doesn't get much better!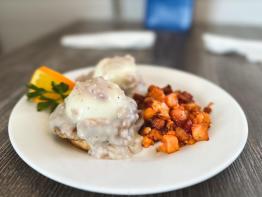 Lock 'N Key Restaurant & Pub, right across the street from Englewood Beach, serves up a variety of amazing breakfasts with a great location, daily, 8–11 am. This Englewood brunch sets you up for the rest of the day at the beach, which is hard to beat!

After a relaxing breakfast or a laid-back brunch, you'll have plenty of energy to enjoy all the delightful activities and attractions in Punta Gorda/Englewood Beach!