A large part of the appeal of Old Florida is the laid-back and beachy vibe. Think small, family-owned businesses, friendly people, and an unhurried pace…like a Jimmy Buffet song. Lucky for us, that ambiance is alive and well in Englewood, Cape Haze, and Placida, especially in the restaurants. With a variety of cuisines, tasty drinks, and striking views, you'll want to take your time and enjoy every easygoing second of your experience when it's time to leave the beach or put down the fishing pole for a meal.
Take a Virtual Tour
of Farlow's on the Water
Check out some of our favorite Englewood restaurants offering chilled-out outside dining:
Outdoor dining at Farlow's on the Water is a singular experience. Everything encourages diners to relax and enjoy, from the beautiful greenery-lined waterfront patio and boardwalk to the aromatic herb garden that enhances their super-fresh Caribbean cuisine (with a southern twist). Add in weekly live music and creative cocktails, and you're living the dream.
With a roomy covered patio for outdoor dining, a friendly atmosphere, and an extensive menu that includes everything from vegan (and "regular") sushi to Korean BBQ to Chinese doughnuts, Big Bamboo Asian Fusion is the perfect place to satisfy any number of food cravings.
Lock 'N Key Restaurant & Pub takes pride in providing fresh and tasty
meals in a bright and welcoming atmosphere. Their beautiful outdoor patio is just across the street from Englewood Beach, which means splendid views and refreshing sea breezes. Add in their friendly staff and scrumptious menu, and you've got a definite destination dining spot.
Ken & Barb's Grove City Kitchen on Oyster Creek boasts several fun outdoor spaces: enjoy your meal at the bar overlooking the lagoon or settle into a comfy couch under the tin roof. When you're done, try a game of bocce ball out front. Wherever you decide to dine, the food will be fresh and tasty. Features a kid's menu for the under-12 crowd.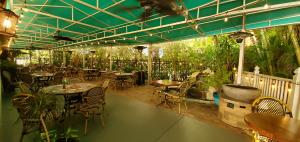 The tropical paradise that is the outdoor dining patio at Landy's Restaurant is almost incentive enough to visit, but their fresh and flavorful food is the real draw. From stellar steaks and seafood to salads, sandwiches, and vegan options, you may find yourself returning again and again to try everything…and to enjoy the ambiance of that patio.
Paradaiso Mexican Grille and Bar is, as their motto proclaims, "A taste of Mexican Paradise in Englewood," which is proven by their authentic menu. Savor your meal and a monster margarita on the enclosed and shaded patio to enjoy live music and a convivial atmosphere.
Smokin' Jerry's Tiki Hut is in Gasparilla Marina, so it's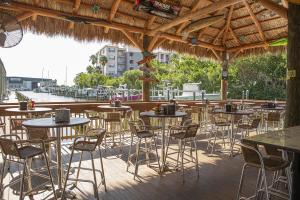 a great place to boat-watch. They're known for their wide variety of smoked meats, so you're sure to find something mouthwatering, and with a varied kid's menu, even the pickiest little one should be happy. Dining outside under the tiki is a wonderful way to hang loose and refresh for your next adventure.