The choices are abundant. It really all depends on what you're craving. In Port Charlotte, independent restauranteurs revel in their own creativity and can-do spirit, which means a wide variety of delectable eateries for all lucky diners. Atmosphere run the gamut from rockin' to elegant, and each spot bustles with its own special energy.  When it comes to types of cuisine, the range is mouthwatering, from uniquely prepared down-home fare to world-class cuisine that will put a satisfied smile on every face.
We proudly present a small sampling of the wonderfully different dining options available in Port Charlotte. Let your appetite lead you and savor every morsel:
Take a Virtual Tour of The Twisted Fork in Port Charlotte
A glance at the Twisted Fork's menu may send you rushing right over…which is a very good idea. The unique décor and hospitable atmosphere are only the tip of the iceberg (of fun). The massive covered outdoor pavilion—Bert's Back Porch—features live music almost daily (usually beginning later in the day but starting at noon on Saturdays). You may be tapping your toes while you enjoy their "twisted" fare and kids will love their 13 and under menu.
You know a place is worth a visit (or three) when the locals keep returning, and All-Star Sport Grill has a large local fan base. The friendly service and wide-ranging menu featuring their well-known wings makes them a regular stop for many in the area. Their roomy covered patio with shaded sides and fans is perfect for enjoying the weather and they feature live music Tuesday through Sunday. Their Little League menu for kids 12 and under is sure to satisfy and there is plenty of space for groups and families.
Authentic Italian is often the right answer to the hunger question. With a laser focus on a quality menu with best-of-the-season local ingredients that perfectly complements the old-world charm of the physical space, Rossini's Bistro & Café Port Charlotte offers a remarkable dining experience you'll want to have again and again.
From the inspired menu to the impeccable service, a meal at The Grill at 1951 is an experience to remember. Feast on outstanding menu options and linger over something amazing from their dedicated Martini Menu and let yourself lean back and soak up the delightful atmosphere.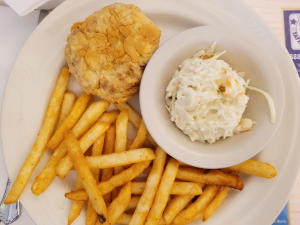 The secret is out, and the once-hidden gem that is Brother's Fish House has been uncovered. With singular seafood expertise, this raved-about restaurant impresses all who partake. For once, it's safe to believe the hype and head over for fresh, delicious seafood and great service in a casual, storefront setting. 
The menu at Prime Serious Steak features Chairman's Reserve steaks, hand-cut in their own butcher shop and aged a minimum of 28 days, but there are many other delights in which to partake, including other classic steakhouse fare and signature appetizers. Relish your meal either inside or out on the cozy, covered outdoor patio to enjoy the fresh air and casual ambiance. Be sure to note: the popovers are amazing!