Punta Gorda/Englewood Beach has a lot to offer all year round, but especially in the summer. It's a great time for families to explore, with many activities to keep everyone busy. Enjoy beautiful beaches full of gorgeous shells and fossilized shark's teeth, sunny skies, and lots of family-friendly activities and places to visit. Here are a few ideas for family-friendly activities this summer.
 
Beach Day!
Take a Virtual Tour of the Englewood Beach playground at Chadwick Park
A day at the beach is a great way to spend time together building sand castles, swimming, and finding seashells and fossilized shark teeth! A beach day is also a great way to relax for parents.
Englewood Beach is known for its thousands upon thousands of sea treasures. The kids will love hunting for pretty shells and all sizes of shark's teeth, and you can also use the shells you collect to make a craft with the kids another day! There's also a great playground right next to the beach, if they need a little break from the sand.
No matter how you enjoy it the beach, here are some tips to help your family get beach ready.
 
Exploring Nature
We experienced an outing with Babcock Ranch Eco-Tours, and it is still one of our favorite trips since moving to southwest Florida. It is such a cool thing for families to do. You get to see all kinds of local wildlife up close and personal. There's also a cool little museum, a fun gift shop, and a restaurant with lots of tasty options. Don't miss this adventure!
 
Playing at the Park
A visit to the playground is always a good way to keep the kids entertained and get some energy out, and Punta Gorda/Englewood Beach has plenty of great ones.
It can get pretty warm in the summer, so you might want to go in the morning before it gets too hot or in the evening before the sun goes down. Grab some bug spray and a frisbee and have fun at the park! A few of our favorite parks are Tringali Park in Englewood and Bayshore Live Oak Park in Port Charlotte.
 
Cooling off
Splashpads are a great way to be outside in southwest Florida in the summer and not get overheated, but don't forget your sunscreen!
The splash pad at Ann & Chuck Dever Regional Park pool features a transitional shallow wading pool with a small slide, downspouts, bubblers and many other fun features. The fees are $3 for 16 years and up, $2 for ages 2-15, and under 2 is free.
The South County Regional Park Recreation Center features a kid's pool area with splashing areas and a slide. 
For more information on any of these parks, call 941.613.3220.
The whole family will also love the Interactive Fountain at Laishley Park. It's the perfect place for an outing, with an interactive splash pad, play area, covered seating, and a large green space and path that runs right along the water.
 
Enjoying a Rainy Day
Summer means rain can move in and out of the area quickly. Although great for the greenery, it can sometimes postpone or change outdoor plans, so here are a few things to do in Punta Gorda/Englewood Beach on a rainy day.
Hit up the Port Charlotte Town Center Mall to do some shopping or people watching, to enjoy multiple dining options, and to catch the newest theatrical movie release.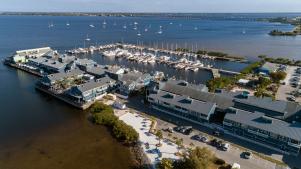 Fishermen's Village lets you have it both ways when it rains, with an open-air design with plenty of shelter and tons of fun stores. Enjoy a meal either inside or outside at one of their waterfront restaurants, and often, live music in Center Court.
Check out more rainy day ideas here.
For kids and parents alike, Punta Gorda/Englewood Beach has a lot to offer! With these ideas, there should be no "I'm bored!" comments from the kids. Have a fun and safe summer!