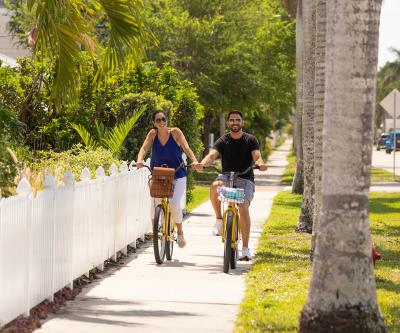 What's an outdoor aficionado to do when stifled by cold, snow, and ice? Head south to Punta Gorda/Englewood Beach, of course! Winter around here usually means temperate days, so you'll be comfortable golfing, fishing, beaching, biking, and enjoying every other outside activity you can think of. The evening air has just the right amount of crispness to encourage cuddling up around a firepit or swaying the night away to live music.
 
Winter Fishing
Whether you charter a boat, trailer your own or set up on one of our many fishing piers or shores, you'll hook plenty during the winter months. Target Spanish and king mackerel, grouper, lane snapper, hogfish, sheepshead, trout, pompano, and so many more. Be sure you know your limits and which species are catch-and-release. It's also handy to know which local restaurants will Cook Your Catch!
 
Golf
Golfing in Punta Gorda/Englewood Beach is amazing all year 'round. Our course designers truly embraced and enhanced the natural spectacle of our treasured environment, which makes for some very special experiences. The area boasts 15+ courses, including three in the  Audubon International Cooperative Sanctuary Program (ACSP) for Golf and two on the Golfer's Choice 2022 Best Courses in Florida. Trust us, you'll never run out of options as to where to play a fun and challenging round.
 
On and In the Water
The air may take on a gentle chill in the evenings, but our waters stay pretty warm, so you can still swim and wade, paddle, kayak, and go boating. Be sure to keep your eyes peeled for all manner of birds and wildlife, as well: they love the mild weather during the winter months just as much as we do.
If the cold is giving you the blues, come on down to enjoy all the outdoor activities you love in Punta Gorda/Englewood Beach. We hope to see you out and about!