5. The Scenery is as Good as the Food 
From the tranquil water vistas and gorgeous greenery at Farlow's on the Water to the amazing panorama Perch 360 provides to the waves and beachy sunsets you'll enjoy at our Beach Restaurants, the views from our restaurants relax and delight, enhancing the entire experience.
 
4. Rated Nation's #2 Small Town Food Scene
The indie culinary scene in Punta Gorda/Englewood Beach is robust and deep, fueled by a passion to provide diners with the best possible experience and the talent and creativity to craft unique and satisfying dishes. These are just a few of the reasons Punta Gorda ranked second on the USA Today 10Best list for Best Small Town Food Scenes.
 
3. Happy Hour at TT's Tiki Bar Starts at Noon on Weekdays
Need we say more about TT's Tiki B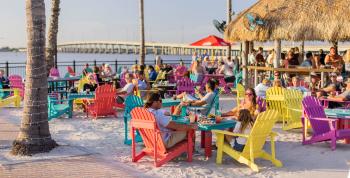 ar?
How about a menu full of fresh and delectable dishes and thirst-quenching cocktails, live music and dancing, beach volleyball and other fun outside games, plenty of sand to dig your toes into, and absolutely stunning sunset views?

2. Seafood Fresh from the Grill
Waterside living has a lot of perks, and one of our favorites is access to the freshest seafood. Restaurants like Peace River Seafood and Botanicals, Brother's Fish House, and Captain Bill's Hot Delicious Seafood take full advantage of this access to offer stellar sea cuisine.
 
1. Dinner with a Sunset
Our waterside restaurants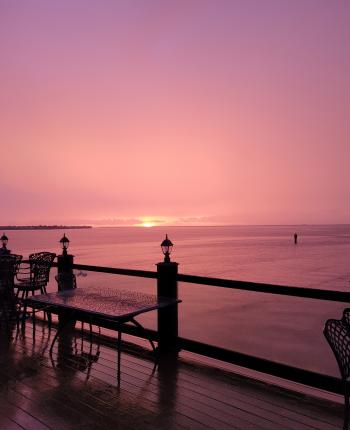 are oriented toward the sunset whenever possible because our sky shows are spectacular!
Visit the The Captain's Table on Charlotte Harbor, the Lighthouse Grill and Tiki Bar, The Waverly Restaurant & Bar, Sandbar Tiki & Grill, and many other restaurants in the area around the golden hour to marvel at the amazing colors while enjoying your scrumptious dinner.
 
Of course, a delicious vacation is about more than great food and drinks, but they definitely add to the enjoyment. See you soon…bring your appetite!