Locals often refer to Punta Gorda as "Punta Gorgeous." One reason is the City's park system, which boasts 19 parks covering more than 100 acres of prime real estate. All of the parks have picnic tables or benches where you can sit and enjoy the view. But there's more to Punta Gorda's parks than just the beautiful scenery.
Pickleball is all the rage these days, and Punta Gorda has jumped on the bandwagon. Gilchrist Park is home to eight dedicated pickleball courts where you can pick up a game. Stop by Thursday evenings to enjoy the legendary "Guitar Army." The style of music depends on who shows up that night, but folk, blues and rock roll are typically on the play list.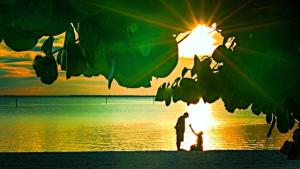 Ponce de Leon Park offers visitors a true sensory experience. Feel the warmth of the sun as you sit on the small-but-inviting beach. Watch boats parade by during the day and the sun set in the evening. See the birds and other wildlife that make Peace River Wildlife Center their home. Listen to a naturalist talk at the pelican feeding daily at 2:30. (The birds have a lot to say as well!) Make sure not to miss Luna, a leucistic Eastern screech owl that serves as the Center's mascot. Luna is white, but not albino, as his eyes, feet, and beak are normally-colored.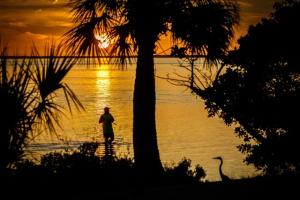 You'll get the most bang for your buck at the History Park on Sundays. Start your morning off with a trip to the Farmers' Market, where you'll find unique items like gator jerky and tie-dyed baseball caps. Take in the historic buildings, one of which houses a gift shop with local artists' creations. The photos of the eagles that made their nest in the park are a must-see.
Enjoy a guided tour of the History Park's gardens that begins when the Farmers' Market ends. For a $5 donation, you'll come away with a plant and butterfly pamphlet and conversational tidbits like the fact that butterflies have taste buds in their feet. You'll also find out why Punta Gorda is called the "City of Hibiscus."
Like Punta Gorda itself, its parks offer something for everyone. The question is not whether a visit to a park should be on your "to do" list, but which one to enjoy first.