Punta Gorda parks are a major reason this historical little city is so beautiful and fun to explore. There are a whopping 19 parks covering more than 100 acres of prime real estate, and all of them have picnic tables or benches where you can sit and enjoy the view. But there's more to Punta Gorda's parks than just the beautiful scenery. It's hard to choose the best parks in Punta Gorda, but here are a few great green spots to get you out and about.
 
Pure Nature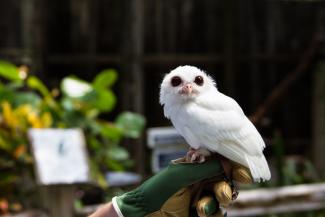 Ponce de Leon Park offers visitors a true sensory experience. Feel the warmth of the sun as you sit on the small-but-inviting dry beach. Watch boats parade by during the day and the sun set in the evening. Visit Peace River Wildlife Center, right next door, to see birds and other wildlife up close and personal. Listen to a naturalist talk at the pelican feeding, daily at 2:30 pm. (The birds have a lot to say as well!) Make sure not to miss Luna, a leucistic Eastern screech owl that serves as the Center's mascot. Luna is white, but not albino, as his eyes, feet, and beak are pigmented normally.
 
Fun & Games, Music & Shopping
Outdoor recreation in Punta Gorda can mean everything from renting a Jet Ski or paddling a kayak to riding a free rental bike or walking a nature trail. Of course, one of the most popular outdoor activities in the area is pickleball! To play a round or two while out and about, Gilchrist Park is a good choice. There are four dedicated pickleball courts, available from 8 am to 8 pm—or dusk, whichever is earlier.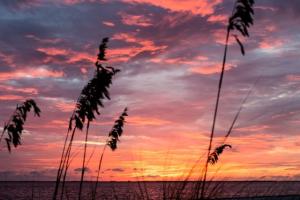 Gilchrist also offers live music! Stop by the park Thursday evenings to enjoy the legendary "Guitar Army." The style of music depends on who shows up that night, but folk, blues, and rock are typically on the play list.
You'll also get a lot of bang for your buck at the History Park on Sundays. Starting at 9 am, you'll find unique arts, crafts, food, and produce. Enjoy live music while you take in the historic buildings, one of which houses a gift shop with local artists' creations. 
 
Kid and Dog Friendly
Kids and four-legged friends will especially love Laishley Park. This beautiful park is right along the Peace River and features lots of green space, amazing views no matter which way you walk on the nice, wide paths, an amazing splash pad and fountain for the littles, and the poignant and beautiful public art piece, "The Spirit of Punta Gorda."
There are plenty of dog-friendly parks in Punta Gorda, but the ultimate has to be Hounds on Henry Street. Traveling with your dog is both rewarding and tiring, and a visit to this fenced dog park can relax and refresh you both! There are separate areas for large and small breeds so every dog can feel safe and comfortable.
Like Punta Gorda itself, its parks offer something for everyone. The question is, which one will you enjoy first?