For those who like to keep active while on vacation or traveling for business, we've got one of the most scenic walks, or runs, in all Southwest Florida. In the matter of an hour, you can not only get your workout in but also enjoy the pristine scenery of our expansive Charlotte Harbor.
The double bridge walk (or run) is the path that connects Punta Gorda to Port Charlotte and is the dividing line between the Peace River and Charlotte Harbor bodies of water. Here is a quick rundown of the journey.
Note: The walking/running area is separated from traffic by concrete barriers so is safe and worry free from oncoming or following vehicle traffic.
 
Step 1: Parking or Not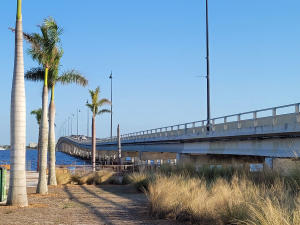 If you're staying in downtown Punta Gorda, the trek is just steps from your hotel room. If you're driving to the Harbor area, there are options to park downtown at several lots on the Punta Gorda side of the Harbor. On the Port Charlotte side, we recommend Live Oak Point Park, right across the street from the soon-to-open Sunseeker Resort Charlotte Harbor. Not only is there plenty of free parking but there are fishing piers and restrooms too. This is our suggested starting point, though you can start at either end of either bridge.
 
Step 2:
Once parked, make your way to the sidewalk on the northern bridge, the Barron Collier Bridge, named after an entrepreneur and landowner in the early 1900s. The two lanes of Northbound US 41 (Tamiami Trail) travel over the bridge. Enjoy the 1.2-mile trek across the bridge to Punta Gorda. Soak up the gorgeous views of the water, the boats, and the birds and sea life while tackling the gentle challenge of the incline: both bridges rise to 45 feet above the water. Keep your eyes peeled for dolphins, as well!
As you reach the eastern end of the bridge, you'll see scenic Laishley Park Marina off to your left. Head under the northbound bridge and along the harbor to the southbound bridge on the Punta Gorda side.
If you need a break, we can recommend TT's Tiki Bar for a cool beverage of your choice. You will pass right by it on your way to the other bridge.
Next is the Gilchrist Bridge, carrying the two southbound lanes of US 41. This bridge was named after former Florida Governor Albert W. Gilchrist, who resided in Punta Gorda.
 
Step 3:
Now you'll walk (or run) the Gilchrist Bridge, which offers views of Charlotte Harbor and the surrounding areas. As you move towards the end of the bridge the Sunseeker Resort Charlotte Harbor, currently under construction, will be your main landside view.
 
Step 4:
As you drive away, savor the memory of your healthful, rewarding, and refreshing outing, and start planning your next one!