Fall is a great time to travel, and Punta Gorda/Englewood Beach is the perfect destination for exciting fall events and activities worth traveling for. Here are a few to get you started:
Florida International Air Show
The Florida International Air Show has been thrilling audiences for over 35 years and it just keeps getting bigger and better. Although there's no show in 2022, the 2023 event will feature the world-renowned USAF Thunderbirds, so you may want to start making your plans now! 
Food, live music, a poker run, a block party, "edu-tainment" exhibits, the beach, and very fast boats: sounds like the perfect family outing. With three days of activities, there's something for everyone!
Find more fun fall happenings, including "mudding" events and destination art and craft festivals, on our Events Calendar page.
Fall Fishing
Trolling the waters of the Charlotte Harbor Gulf Island Coast this time of year can reward you with anything from barracuda and Spanish mackerel to amberjack, king fish, and snapper. Find out more about what you might catch in the fall with our Fishing Reports.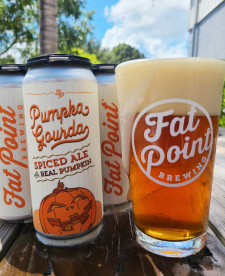 Tis the Season
We're looking forward to the Pumpkin Spice time of year. We love it all, the drinks, the treats, the everything else! And we can go one better: keep an eye out for Pumpka Gourda. This "spiced ale with real pumpkin" from our very own craft brewery, Fat Point Brewing. It's the perfect accent to a fun Florida fall.
Visit our Restaurant page to find more food and drink to enhance your fall travel. See you soon!