Walking barefoot on the beach in the middle of winter never gets old, and doing fun Christmas activities in shorts and flip-flops is an easy way to make your friends and family back home jealous! Not to brag, but that's our normal in Punta Gorda/Englewood Beach.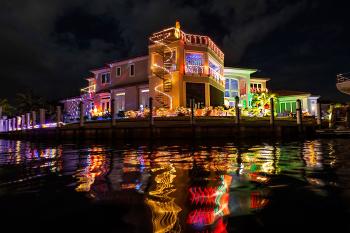 We'd like to share a few of our charming holiday happenings to inspire a visit when you need a break from the cold and snow. (You may need a sweater at night, but the days will likely have you running around free as a bird.)
Christmas Lights Canal Cruises with King Fisher Fleet depart from the elaborately-decorated Fishermen's Village three times a night for the entire month of December. Homeowners along the canals of Punta Gorda go all-out decorating the backs of their homes, even some docks and boats, and their de-"light"-ful creations are only visible from the deck of a boat. Enjoy a leisurely dining experience—and likely some live music—before or after your cruise at one of the seven waterfront eateries at the Village. If you're looking for a private tour for groups of up to six people, try a Christmas Lights Waterway Cruise with Smoke and Roses Sailing Charters. You can even combine the Christmas lights tour with a sunset tour for an amazing three hours on the water.
Speaking of Fishermen's Village, their holiday lights and decorations are a destination in their own right. They flip the switch on November 12th at their Lighting of the Village event, and the Festival of Lights illuminates the entire Village for the rest of the year. There's no better place to window shop, buy gifts, have a great meal, watch an amazing sunset, dance to live music, and people watch.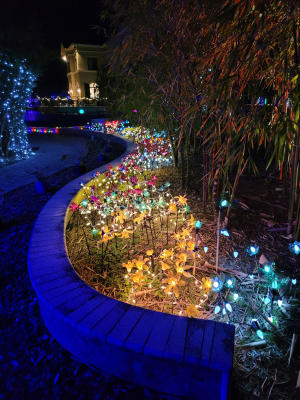 One event we look forward to every year is Gardens Aglow at the Peace River Botanical & Sculpture Gardens. The night comes alive with thousands of holiday Christmas lights decorating the gardens. It's a leisurely stroll under the stars and the perfect way to get in the festive holiday mindset. Rumor has it Santa will be in attendance on select days, and there will be carol singing and S'mores roasting by the fire. Sounds like a must-do family outing for holiday memories that will last a lifetime. Tickets go on sale October 1.
For a special musical experience, don't miss Mindi Abair's I Can't Wait for Christmas Tour. Enjoy the sounds of the season with this Grammy® nominated artist in the comfort of the Charlotte Harbor Event & Conference Center. Add on a pre-concert Wine Tasting to hear Mindi's husband Eric Guerra talk about their very special wines, which Mindi has set to music.
If you're here for New Year's Eve—and you definitely should be!—make a note to enjoy the huge fireworks display over Charlotte Harbor by Fishermen's Village. Festivities start at 6 pm, and don't end until 12:30 am.
Once you've experienced "winter" in Punta Gorda/Englewood Beach, you'll realize it's definitely worth a "do over" – every year!