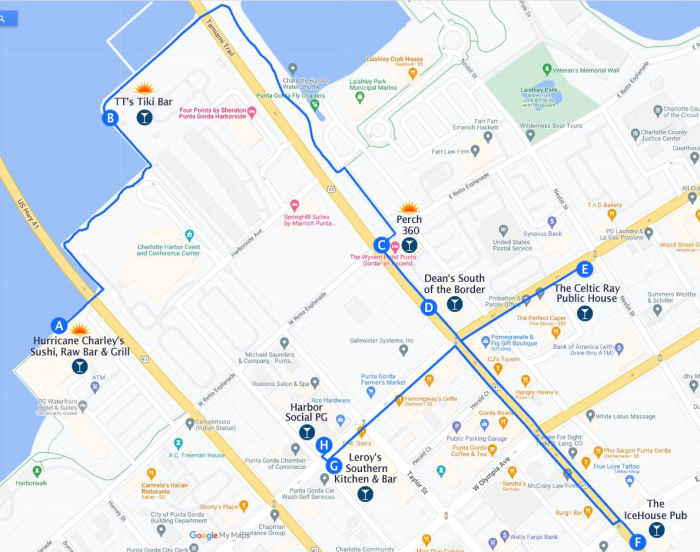 Downtown Punta Gorda is mentioned in conversation with superlatives such as charming, quaint, and friendly.
A great way to get taste of what our restaurants and taverns have to offer is an entertaining "Pub Crawl" type self-guided exploration through the charming, walkable Downtown.
To get you started, we've come up with a suggested route, which is completely customizable. The only requirement is to have fun, and that's built right in. Choose your spots, rearrange the order or stick to a certain area, jump on or off at any point, or enjoy the whole thing, whatever you feel! We always recommend catching as many sunsets as possible when you're here, so the prime sunset spots are marked.
Click the map image to open a custom, interactive Google Map.
Ok, now on with the show! First up:
Hurricane Charley's: open 'til 10 pm Sunday–Thursday and until 11 pm on Friday and Saturday

Certified Sunset Spot
Settle in on the Hunker Down deck to appreciate the water views and sea breezes. Enjoy a cocktail, a vintage from their extensive wine list, or a unique beer from their always-rotating craft brew selection and something tasty from their expansive menu. We think the margaritas are quite good! Either hang out to catch the sunset or head out and follow the Harborwalk northeast (to your right). Be sure to stop and appreciate the Tales from the Harbor Mural under the bridge! In just a few minutes, you'll be at…
TT's "The Tiki" Bar: open 'til 10 pm Sunday–Thursday and until midnight Friday and Saturday

Certified Sunset Spot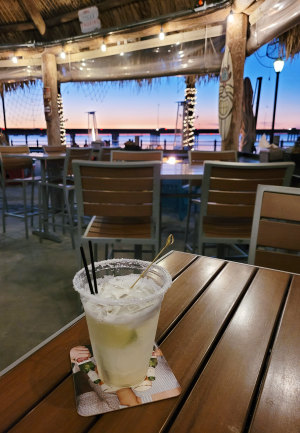 TT's is the place to kick off your shoes and give your toes some well-deserved sand time while you enjoy one of their specialty cocktails or frozen concoctions. Fair warning: you may not be able to resist a taste from their large menu, and live music and dancing are always possibilities. Just when you think it can't get better, you'll notice the beautiful views. 
To get to the next stop, you can either walk back up toward the Four Points Hotel and carefully cross northbound Tamiami Trail, or hop back on the Harborwalk and take the scenic route under the other bridge, right along the water. Either way, in a matter of minutes, you'll be at…
Perch 360: open 'til 10 pm Sunday–Thursday and until 11 pm Friday and Saturday

Certified Sunset Spot
Perch 360 is, yes, perched, on the roof of The Wyvern Hotel. You'll want to settle in for a bit to enjoy the best views in town, the tasty tapas, and something from their full bar in the relaxing and elegant décor. If you're a selfie person, the possibilities are numerous and unique! Even better, you may luck into some live music and you'll for sure revel in the top-of-the-world atmosphere.
Your next stop is approximately 1 minute away! Right next door is…
Dean's South of the Border: open until midnight, Monday–Thursday, until 1 am Friday and Saturday, and until 11:30 pm Sunday.
Dean's is one of the best places in the area to shake, as it were, your groove thing. This welcoming Tex-Mex joint is always jumping: they feature live music 7 days a week. Take advantage of a drink special or order something delicious from their substantial menu and enjoy the high energy crowd.
Once it's time to move on, continue your route by heading south on Tamiami Trail and turning left on East Marion Avenue. At the end of the block you'll find…
Celtic Ray Public House: open until 1 am daily
Whether you shake a tail feather to live music in the outdoor beer garden or hang inside in this authentic Irish Pub with a Guinness and their world-famous Fish and Chips (do it, trust us), you're going to have a great time. You may even catch one of their periodic comedy nights or a fun trivia night. The kitchen is open until midnight every night and the pub is open until 1 am. It's the perfect spot to reflect on your adventures and begin planning the next installment! 
To continue the Pub theme, head back toward Tamiami Trail and turn left. Continue for 2 blocks, cross East Virginia Avenue to find your next destination, to your left…
The Icehouse Pub: open until 11 pm daily
This authentic British-style Pub features regulation dart boards and traditional pub games like snooker, billiards, Shove a Penny, and Shut the Box. Partake from the legitimate British menu and try one (or more) of the 34 tasty beers on tap to feel like you're on a real English pub crawl!
Once it's time to move on, head northwest on Tamiami Trail, back towards Marion Avenue. In two blocks, take a left on West Marion and continue for a block and half. On your left will be…
Leroy's Southern Kitchen and Bar: open until 10 pm Monday–Wednesday, 'til 11 pm on Thursday, until midnight on Friday and Saturday, and until 9 pm on Sunday
Famous for their upscale comfort food, Leroy's has a homey and convivial atmosphere you may not want to leave. Plant yourself for a bit to dive into a surprising culinary repast while you enjoy some live music and something from their truly creative cocktail menu.
Pop across the street to rock out and relax at…
Harbor Social PG: open until 10 pm Tuesday–Thursday, until 11 pm Friday and Saturday, and until 8 pm Sunday
This unique venue in the heart of downtown Punta Gorda offers an elegant, casual, and comfortable atmosphere, "great spirits," live music (and Thursday Night Football in season!), and a creative menu. The building offers plenty of shelter but is still open-air, so it's a great place to people-watch.
If you've walked this crawl, you're only about 3 blocks from where you started!
For more fun things that don't involve the beach, check out our things-to-do guide.