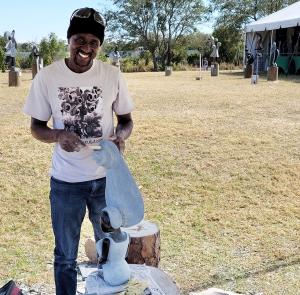 ZimSculpt is a world-renowned traveling exhibition of modern Zimbabwean stone sculptures, an amazing happening in itself.  What makes it more special is that the exhibition only comes to North America once a year. This means, of course, that only one botanical garden in the whole of North America is chosen to showcase these stunning sculptures. In 2022, thrillingly, Peace River Botanical & Sculpture Gardens in Punta Gorda was chosen, and in even more exciting news, the exhibit is set to return to the Gardens February–May, 2025!
This international blockbuster exhibition is very exciting, because not only is there always a lot to see, but everything in the exhibition is available for purchase.
Zimsculpt is based in the capital of Zimbabwe, Harare, and represents an artist collective of roughly one hundred sculptors, and fair trade is valued: all sculptures have been ethically sourced and the artists fairly compensated for their talent.
The sculptures have a striking style that is unique to the Shona tribe of southern Africa. The art is carved from various types of serpentine and semi-precious stone, often weighs tons, and can be as large as seven feet tall.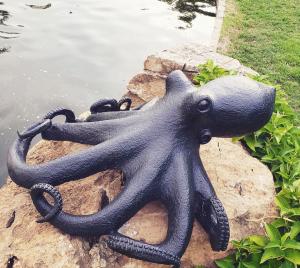 In 2022, there were more than 100 of these exquisite sculptures  displayed artfully throughout the Gardens, and there were also hundreds of unique sculptures, traditional baskets, and jewelry pieces showcased in the Marketplace tent.
The 2022 event also afforded opportunities to meet two of the Zimbabwean sculptors: Passmore Mupindiko and Brighton Layson, who demonstrated their artistry on select days. There were also special theme days and other happenings throughout the run of the exhibition.
This exhibit showcases some of the finest contemporary stone sculpture in the world, and it's never too early to start making plans to visit again.