Punta Gorda/Englewood Beach should be on every angler's bucket list of fishing destinations. It offers both freshwater and saltwater fishing, so whatever your preference is, there's a spot waiting to be fished.
Internationally renowned as one of the world's top sport fishing destinations, anglers are spoiled for choice in Punta Gorda/Englewood Beach. The hardest decision I had to make was where to go fishing. I decided to spend a day fishing the Gulf of Mexico, a day on the water at Webb Lake, located within the Fred C. Babcock/Cecil M. Webb Wildlife Management Area, and some time along Charlotte Harbor.
If you're short on time and only have a day to fish, you'll need to pick a spot and stick to it if you want the best chance of success. If you're around for a while, I recommend changing it up for a well-rounded and challenging experience!
Here are the best fishing experiences in Punta Gorda/Englewood Beach, based on my personal experience.
 
Deep-Sea Fishing Charters
To get the best out of my day of fishing in the Gulf of Mexico, I decided to take a charter. Being local, the captain would know the best spots to catch the big fish.
These waters are home to a variety of fish species, including Blackfin Tuna, Cobia, Barracuda, Mahi Mahi, Amberjack, Snapper and Grouper.
Little did I know that my first fish would be an Amberjack that would put up a spectacular fight! Battling the fish so that it didn't make it back to its rocky home left my arms shaking, as if I had pulled my forearm muscles. But it was worth it, as the Amberjack came in at 60 pounds.
All I can say is that it was a successful day's fishing, with the final haul including an Amberjack, Blackfin Tuna and Mahi Mahi.
 
Webb Lake at the Babcock/Webb Wildlife Management Area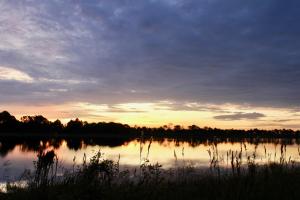 Fishing at Webb Lake was a treat. The Babcock/Webb Wildlife Management Area is among the last undeveloped expanses of wet pine flatwoods in Southwest Florida. The 365-acre Webb Lake allows plenty of space to fish from the shoreline. If you're planning on heading here to do some freshwater fishing, you should know that you're only allowed to use boats with electric motors.
The lake is home to a variety of fish, like Largemouth Bass, Speckled Perch, Bluegill, Channel Catfish and Redear Sunfish. There's a lot of vegetation around the shorelines, so I decided to use soft plastic worms to catch the fish.
Anglers will find a Bass paradise here! The Bass can be between 15 and 22 inches long and weigh up to six pounds!
It's important to check the fishing regulations for Webb Lake, as it's catch-and-release fishing only, to protect this outstanding fishery, unless it's been stated otherwise.
 
Charlotte Harbor
I love the variety of fishing opportunities that Charlotte Harbor has to offer. Charlotte Harbor and the surrounding Gulf Islands make up the second largest marine estuary in Florida and one of the most sought-after fishing destinations on the Gulf Coast. You can choose from deep sea fishing, shore fishing, pier fishing and freshwater fishing in Charlotte Harbor. There were a number of fish that I had on my bucket list, like the Snook, Tarpon and the Cobia, to mention a few.
I headed towards the mangroves to catch a Snook. These fish can also be found in the grass flats, creeks and backwaters around Charlotte Harbor. I used a dead pinfish as bait and before I knew it, I had a Snook on the end of my line.
The Snook put up a really good fight and made long runs and leaps. This was one of the most exciting fishing experiences I've ever had!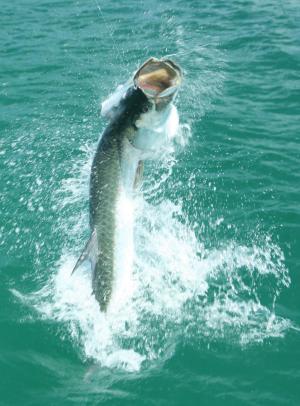 Fishing for Tarpon was a bit different. I had to go hunting for them, and they didn't make it easy, either. I was on the boat with my binoculars, looking for the reflection of a rolling Tarpon. Finally, in the distance I saw birds diving for bait-fish!
Using Ladyfish as bait, it was only a matter of minutes before I saw the Tarpon take the bait from behind. Tarpons are extremely strong fish and they put up a spectacular fight, leaping out of the water and making long runs.
I can see why Charlotte Harbor is a popular fishing destination. My target was Tarpon and Snook, but there's such a wide variety of fish species that can be caught here year-round. On my next trip, I'll be aiming to catch Spanish Mackerel, Pompano, Sheepshead, Grouper, King Mackerel, Bluefish and Barracuda!
 
Conclusion
My time in Punta Gorda/Englewood Beach was too short for my liking. I'm already planning on returning to fish the Boca Grande Pass, among other spots!
If you're considering doing a bit of fishing around Punta Gorda/Englewood Beach, I can guarantee you won't get bored. The sheer amount of amazing fishing spots and fish species to target makes every fishing trip an exciting and worthwhile one.