Our beaches, outdoor adventures, restaurants, and other fun activities in Punta Gorda/Englewood Beach are perfect for couples looking for a romantic getaway. 
Spending time together is always special and if you're the type of couple looking to spend more time outdoors embracing all the natural splendor or enjoying serene moments while bathed in the Florida sun, you might be an Outsider couple. Here on the Charlotte Harbor Gulf Island Coast, we say Outsiders Welcome.
Here are  the top five activities Outsider couples like yourself are going to love in Punta Gorda/Englewood Beach.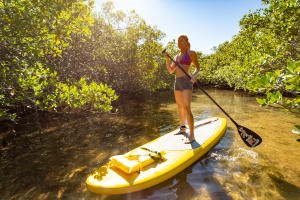 There might not be a better way to see the variety of plants and wildlife on display along our shores than from a paddleboard. An excellent activity for couples of any age (seriously, you seniors are going to feel like kids again), paddleboarding is the perfect blend of relaxing and exciting. Of course, you're more than welcome to rent a board and explore the waterways on your own, but for the ultimate Punta Gorda/Englewood Beach paddleboarding experience, schedule a tour with a local guide to enjoy a peaceful tour of our area's waters while learning about local plants, wildlife, and ecosystems. And even if you think you're not the most coordinated person to pick up a paddle, the relaxed and friendly atmosphere created by knowledgeable tour operators will help almost anyone stand up with confidence. Also, falling over into the beautiful water will provide your significant other with a significant laugh, and isn't that what a vacation is all about?
2. Peace River Botanical & Sculpture Gardens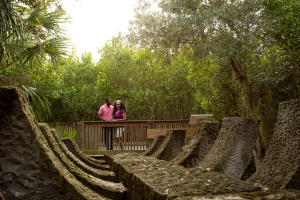 Found alongside the beautiful Peace River, this gorgeous 27-acre waterfront oasis encompasses several ecosystems, including marshlands, wetlands, mangroves, uplands, a tidal basin, and an island amphitheater. Home to a variety of unique plants, flowers, and trees, and hosting sculptures ranging from the stunningly lifelike to abstract works of art, walking hand in hand through the gardens is a must for any outdoor and art enthusiasts. Even if you've been before, you'll want to return as new flowering trees and plants bloom throughout the year and new sculptures are added. Make your visit even more special by attending one of their events! Outsider couples will enjoy exploring the gardens on the boardwalks and docks, stretching on for thousands of feet, providing optimum viewing of the park's breathtaking sculptures and vibrant botanicals.
3. Romantic Sunset Cruises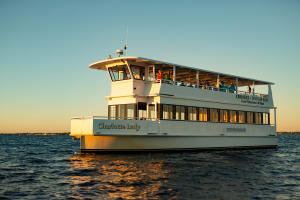 Bring a perfect end to a perfect day with your loved one by taking in a magnificent sunset from a relaxing cruise on a charter boat. Tour companies like King Fisher Fleet and Smoke and Roses Sailing Charters offer sunset cruises of the harbor and Gulf  designed to set the mood for romance. Our Gulf of Mexico sunsets light up the sky with an array of vibrant, beautiful colors that you have to see to believe. While sunsets can be enjoyed from the beaches, waterfront restaurants, and hotel balconies, seeing the sun dip below the horizon while enjoying a soothing boat ride is by far the best way to do it.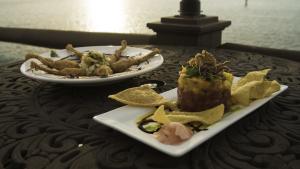 Maybe not the first activity that comes to mind when you imagine enjoying the beautiful outdoors of Punta Gorda/Englewood Beach with your sweetheart, but dining, especially waterfront dining with outdoor seating, is a great way to experience our outdoors. Restaurants such as Farlow's on the Water, The Lighthouse Grill at Stump Pass, Laishley Crab House, The Captain's Table offer incredible, Gulf-fresh seafood, handcrafted cocktails, delicious dishes, and plenty of outdoor seating so you're never too far from our best side…outside. For an even more amazing view, try Perch 360, to take in the whole of downtown Punta Gorda, the bridges, and the harbor.
5. Beaches, Beaches, Beaches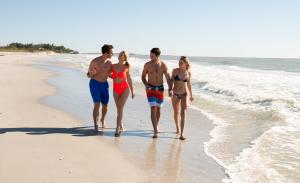 Punta Gorda/Englewood Beach is home to beautiful nature trails winding through sprawling preserves, calming Blueway Trails waiting for kayakers, ample opportunities for birding, more than enough lucky fishing spots both in salt and freshwater, a large variety of native Florida plants of almost every color, and plenty of warm sunshine to brighten up any day. But all those incredible outdoor experiences combined still come in second to the area's award-winning beaches. No matter if you lounge on the sand, enjoy the light waves of the Gulf of Mexico, search for fossilized shark teeth, or build a sand castle, a beach day with the person you love means an amazing time. Plus, The Beach Guy of Englewood Beach is always on hand to rent out chairs, umbrellas, and more for a nominal fee to make your day at the beach comfortable and convenient.