What makes fishing in Punta Gorda/Englewood Beach, Florida so special? The short answer: it's just better. The long answer: it's just bbbeeetttttteeerrrr. The real answer: well that's going to take a little bit of explaining. Take it from a place that knows more about live bait than it does about clickbait, fishing here is different than anywhere else in the world. Maybe it's the peace and tranquility that comes with fishing in the harbor, or maybe it's the high-intensity thrill of reeling in a fish weighing hundreds of pounds on a charter fishing adventure. Maybe it's paddling out in a kayak to land a fish, or maybe it's taking out a motorboat on the Gulf of Mexico. With so many reasons why fishing is just better in Punta Gorda/Englewood Beach, it's impossible to say which are the best ones…and yet we're going to. Let's go, Top 5 Reasons Why Fishing is Just Better in Punta Gorda/Englewood Beach.
1. Be Fresh. Be Salty. Be Here.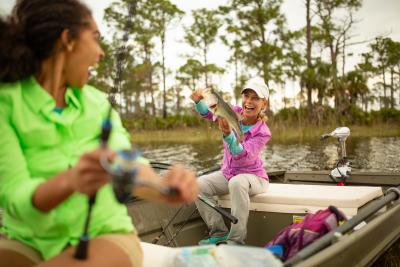 What sets Punta Gorda/Englewood Beach apart from other Florida destinations is that we offer both salt and freshwater fishing. Spend one day in the Gulf of Mexico fighting with a trophy fish for hours and the next day on a still, quiet pond surrounded by miles and miles of pristine, untouched natural wonder. For saltwater, look no further than the bounty of the Gulf of Mexico and off-shore fishing excursions. If fresh water is your fancy, you'll love Lake Babcock, Shell Creek, and Webb Lake. Charlotte Harbor is Florida's second largest marine estuary and is fed with fresh water from the Myakka and Peace Rivers. And, there's so much more water to see throughout the area. So, be fresh, be salty, but above all, be here.
2. By Paddle. By Motor. By Shore.
It's not just about where you fish that makes Punta Gorda/Englewood Beach an angler's dream come true, but how you fish. Whether it's fresh or saltwater fishing you're after, the number of ways you can fish are almost as varied as the species of fish you'll catch (okay not even close, but play along).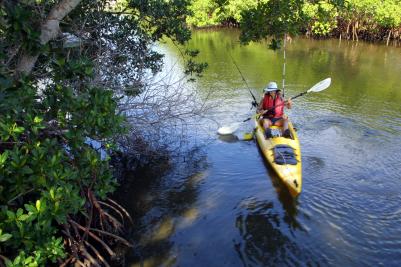 Paddle out with a kayak, canoe, or even a paddleboard on the still waters of a freshwater lake, the twists and turns of a river, and the small waves of the harbor. Crank things up a few notches on a boat with twin outboard motors and enough seats for all your friends and family. You can motor out and explore the area's hundreds of miles of shoreline, or if you're feeling adventurous you can explore the open waters of the Gulf of Mexico with a charter fishing tour. Or, stay on the dry land and cast a line from a dock, a pier, a beach, a river bank, or anywhere along the shore. With so many different places and ways to fish, you'll be able to have a different fishing experience every day of your vacation…if you stay for like a week at least.
3. One Fish. Two Fish…You Get the Idea.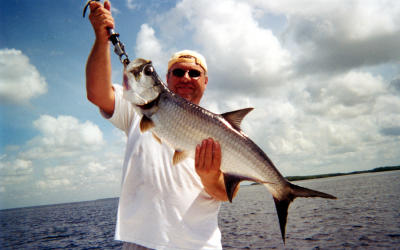 In Punta Gorda/Englewood Beach, our waters runneth over with a bountiful variety of fish species. We've got all your favorites, like the common snook, gray snapper, largemouth bass, Gulf flounder, goliath grouper, spotted seatrout, red drum "redfish," crevalle jack, cobia, bluegill, and the Spanish mackerel. And these are just the commons ones, but you're always likely to reel in something you'd never expect to see here. Are we forgetting anything? Oh, just the best trophy fish we have to offer: the tarpon. Each spring, anglers from around the world come to our area waters, also known as the "Tarpon Capital of the World," with hopes of reeling in this prized game fish. We love our tarpon so much that there are multiple tournaments each year to catch them, including the Ladies Day Tarpon Tournament and the World's Richest Tarpon Tournament. Plus, the Gasparilla Island Kids Classic Tarpon Tournament invites children ages 15 and under to enjoy a great time fishing while raising money for children's health and educational programs throughout Southwest Florida.
4. Fishing Today so we can Fish Forever
There's nothing like spending a day fishing, bringing back your catch to the shore, cooking up an incredible meal, and enjoying it with the people you love. However, to make sure we can enjoy doing our favorite pastime (sorry, baseball) for generations to come, we have to make changes now that will positively impact our future. That's why Punta Gorda/Englewood Beach supports programs that hope to not only maintain our native fish population, but watch it flourish in the future. Coastal Conservation Association Florida and its partners, Florida Fish and Wildlife Conservation Commission and Mote Marine Laboratory, have launched a two-year initiative to raise and release 10,000 hatchery-reared juvenile snook in the Florida Southwest Coast. Punta Gorda/Englewood Beach supports these conservation efforts through sponsoring the summer-long CCA Florida STAR tournament. Learn More at CCAFlorida.org.
Additionally, Punta Gorda/Englewood Beach is home to Florida's second-largest marine estuary. The Charlotte Harbor Aquatic Preserves encompass five aquatic preserves and protect more than 180,000 acres, set aside so that their aesthetic, biologic, and scientific values endure for the enjoyment of future generations. Eco-ventures, including snorkeling in the spring/summer, and nature boat tours in the fall/winter, are offered to provide hands-on experiences in the aquatic preserves.
5. Fishing With Friends is Better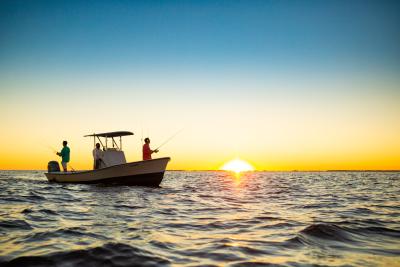 We discussed fishing techniques and locations, species of fish, and what we're doing to ensure fishing is the best way to spend a day in Punta Gorda/Englewood Beach for years and years. But, maybe you don't know how to fish. As a bunch of Floridians, we sometimes take it for granted that we grew up with a rod in one hand and a cast net in the other. And if you think our locals are going to help a bunch of tourists learn how to fish like a pro, then you're absolutely...
right. We love people who have never fished before because it means we get to introduce you to our favorite thing: fishing (in case that wasn't obvious enough). Head to the harbor and point in any direction and you'll likely land upon a fishing charter just hoping to teach you how to bait a hook, cast a line, reel in a fish, and even clean it. Maybe you already know your way around a tackle box. Great. Businesses like Fishin' Franks (currently working to re-open) and TNT Bait & Tackle sell all the equipment you need to catch "the big one" and have plenty of knowledgeable staff and locals available to give you helpful advice on everything from fishing line to where the best spots are at. Also, any one of the several boat rental businesses are happy to provide helpful information on where the fish are biting and how to get the most from your fishing adventure in Punta Gorda/Englewood Beach.
Whatever reasons brings you to Punta Gorda/Englewood Beach, we know you'll have an unforgettable time once you get outside. Our beautiful, untouched, natural outdoors are what set us apart from every other destination in Florida. When you're done fishing, you'll also enjoy kayaking, biking, hiking, waterfront dining, birding, and simply lounging on our gorgeous island beaches. We really believe our best side is outside, and we're sure you'll agree. #BestSideOutside