Here are our top five reasons why fishing is just better in Punta Gorda/Englewood Beach.
 
1. Fresh or Salty
What sets Punta Gorda/Englewood Beach apart from other Florida destinations is that we offer both salt- and freshwater fishing. Spend one day in the Gulf of Mexico fighting with a trophy fish for hours and the next day on a still, quiet pond surrounded by miles and miles of pristine, untouched natural wonder.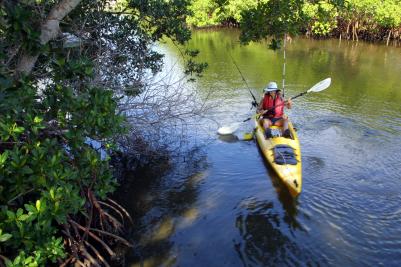 2. Paddle, Motor, or Stay on Shore
Paddle a kayak, canoe, or even a paddleboard out on the still waters of a freshwater lake or the twists and turns of a river, or crank things up a few notches on a motor boat. For practically guaranteed success, explore the open waters of the Gulf of Mexico on a fishing charter. Or, stay on the dry land and cast a line from a dock, a pier, a beach, a river bank, or anywhere along the shore. 
 
3. So Many Fish, So Little Time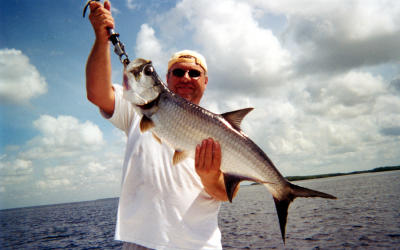 Our waters support a bountiful variety of fish species, like the common snook, gray snapper, largemouth bass, Gulf flounder, goliath grouper, redfish, crevalle jack, cobia, bluegill, Spanish mackerel, and more. And don't forget tarpon! Each spring, anglers from around the world come to our area waters, also known as the "Tarpon Capital of the World," with hopes of reeling in this prized game fish. 
 
4. Fishing Today So We Can Fish Forever
There's nothing like spending a day fishing, so to make sure we can enjoy it for generations to come, we support Coastal Conservation Association Florida and its continuing restocking initiatives and family-friendly fishing tournaments like the summer-long CCA Florida STAR tournament. Learn More at CCAFlorida.org.
 
5. Expert Guidance
If you don't know how to fish or haven't done it in years, a fishing charter can help you out and take you to the best spots. Or, any one of our boat rental businesses will be happy to provide helpful information on where the fish are biting.

Our beautiful outdoors are what set us apart from every other destination in Florida, and when you're done fishing, you'll also enjoy kayaking, biking, hiking, birding, amazing waterfront dining, and simply lounging on our gorgeous beaches. We really believe Our Best Side is Outside, and we're sure you'll agree.