In Punta Gorda/Englewood Beach, Florida, we say Outsiders Welcome. If you like to take adventures off the beaten path, then you may be an Outsider, and you'll find your home away from home right here. While you're exploring the incredible outdoor adventures of Florida's Charlotte Harbor Gulf Island Coast, where we believe Our Best Side is Outside, you'll want to grab as many pics as possible to remember your visit for a lifetime. Whether you're an Instagram influencer, or just posting for friends and family, we hope you'll check out the best places to snap a pic and post!
1. The Cabanas at Perch 360
Located on the roof of The Wyvern Hotel, Perch 360 is an open-air restaurant and bar boasting beautiful views of downtown Punta Gorda and the picturesque Charlotte Harbor. Enjoy refreshing cocktails and a tapas style meal while watching the sun sink below the horizon. Snap and post a pic to make all your followers jealous…and hungry.
2. Peace River Seafood and Botanicals
Housed in a traditional Old Florida Cracker Shack, Peace River Seafood and Botanicals is an unassuming eatery that is a legend and a favorite among those in the know. With plenty of outdoor seating, this is an Outsiders dining dream come true. Peace River Seafood's menu offerings change frequently, at the will of the sea, but they are most well-known for their Florida Blue Crabs.
3. The Solar Trees at the Sustainable City of Babcock Ranch
Home to the largest solar-plus-storage system in the U.S.A., the town of Babcock Ranch is a must-see for those who love protecting the outdoors. The solar trees are a great photo op and are an innovative combination of technology, functionality, and art.
4. The Mangrove Tunnels of Charlotte Harbor
As Florida's second-largest marine estuary, the Charlotte Harbor offers visitors over 200 miles of mapped out aquatic pathways perfect for exploration on a stand-up paddleboard or kayak rental. Post some pics with a paddle in hand! Start planning with the Blueway Trails guide.
5. Our Beaches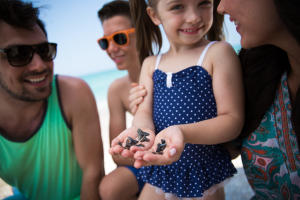 The Punta Gorda/Englewood Beach area has some of the most natural and pristine beaches in all of Florida, and the sand is dotted with fossilized shark teeth that are millions of years old. The perfect souvenir to bring home to your friends and family, and a great way for your pics to score some easy likes.
 
6. A Stump Pass Shell Tree
Stump Pass Beach State Park is a place where locals and visitors alike can dip their toes in the sand, splash in the warm waters of the Gulf of Mexico, and enjoy a beautiful stretch of undeveloped Florida coastline. Scattered throughout the park, you can easily spot the famous Stump Pass Shell Trees. Legend has it that if beach-goers place shells on the tree to make a wish, it will come true. Grab some shells, take some pics, and fulfill your dreams.
 
7. On the Water, Piloting a Personal Motorized Catamaran
Experience Old Florida by sea with a Riding The Waves aquatic eco-tour. Perched atop a personal motorized catamaran, guests can experience the unparalleled beauty and wonder of Florida's Gulf Coast as they navigate the pristine waters. The ideal mix of eco-adventure and thrill ride, perfect for you Outsiders.
 
8. Anywhere Near the Water for a Dazzling Sunset
There are many perfect opportunities to catch a dazzling sunset in Punta Gorda/Englewood Beach. From one of the area beaches, private islands, or aboard a sunset cruise with King Fisher Fleet setting sail from Fishermen's Village, there is no wrong way to watch the bright, golden sun dip below the Gulf of Mexico and capture that perfect vacation pic.
 

9. Peace River Botanical & Sculpture Gardens
Surrounded by colorful flowers and greenery, the Peace River Botanical & Sculpture Gardens is an outdoor art oasis that provides one of the best places for Outsiders to relax, unwind and become fully immersed in nature. With a wide variety of sculptures and plants to see, it's almost impossible to take a bad picture in this garden.
 

10. On an Eco-Tour with Florida Wildlife
Florida is well-known for its marine life, but for a more unique Old Florida experience, take a wildlife adventure with Babcock Ranch Eco-Tours. A refurbished school bus takes visitors through the working Babcock Ranch surrounded by indigenous wildlife, Florida cracker cattle, citrus groves, prairies and improved pastures. Post your pics as you get up close and personal (safely) with alligators, the resident Florida panther, snakes and more.
No matter what you do on your Punta Gorda/Englewood Beach vacation, you'll have a blast exploring the outdoor wonders we have to offer. See why we believe Our Best Side is Outside and from everyone here, we say, "Outsiders Welcome."