Over the long Labor Day weekend, we encourage you to visit us in Punta Gorda/Englewood Beach for adventure or downtime, or a bit of both. Add a hearty helping of dazzling dining, splendid sunsets, and an almost endless array of activities, and you're set for the whole weekend.
Make Saturday a Punta Gorda Day
A visit to Peace River Botanical & Sculpture Gardens is an amazing trip through world-class art installations and wild botanicals, with the added fun of the Butterfly Pavilion and feeding the koi.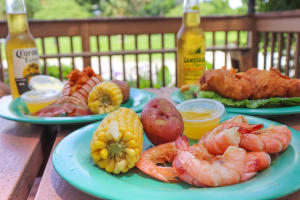 Next up is Peace River Seafood and Botanicals for fresh seafood, an authentic "crab shack" vibe, and locally-grown and crafted wellness products. They're a favorite of locals and returning visitors alike. We also recommend a free tour of Alligator Bay Distillers and a taste of their locally sourced, award-winning, "cane-to-bottle" rum. For some suds and authentic Thai food and sushi, check out Peace River Beer Company.
Don't miss the Military Heritage Museum and its thousands of artifacts, flight simulators, virtual reality experiences, and much more. Nearby is Fishermen's Village, a dining/shopping/live music/prime-sunset-viewing destination in itself. To visit both, arrange a free golf cart ride from the Village to the Museum and back by calling 941.456.3883. Right across from Fishermen's Village is The Visual Arts Center. There's always at least two exhibits going and their gift shop is a perfect place to get your art on.
Sunday Funday
Get out on the water with an eco-tour like no other with Riding the Waves and learn to pilot a two-person catamaran then follow a guide on an exhilarating adventure. To slow it down a bit, try kayaking or standup paddleboarding with any of our local vendors. You'll see birds of all kinds, fascinating sea life, maybe a dolphin or manatee, and truly beautiful views.
Once you've had some adventure, it's time for lunch at one of the tasty spots near Englewood Beach, then a leisurely stroll down the coast or a swim in the usually flat, calm waters of the Gulf of Mexico.
Monday – No Labor Allowed
The day is yours, to do with what you please. Will you fish? Play golf? Grab a free loaner bike in Punta Gorda and explore at your leisure? Maybe just laze at the pool? The choice is yours!
All Weekend
The Labor Day event Dean's South of the Border usually throws features live music each day and a creative and tasty Hawaiian-inspired menu. 
Hurricane Charley's Raw Bar & Grill usually throws a Labor Day Weekend BBQ, featuring St. Louis-style ribs and other delectable items, as well as live music and lots of fun all three days.
To find Labor Day activities for kids and to get a taste of some local fun, check out the Englewood Pioneer Days Festival, which takes place the entire weekend and features a kid's area for the little ones and a beer garden for the grown-ups.
We hope some of these ideas for things to do over Labor Day Weekend inspire you to come visit us!