Gulf of Mexico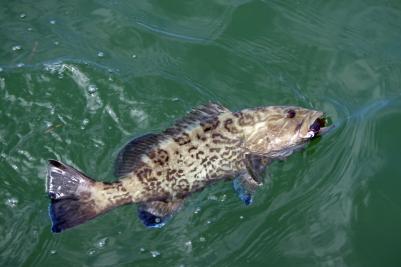 It may not feel any cooler yet, but Fall's arrival changes up the fishing. The bottom fishing that has been a staple all summer, but there are other options now too. Barracudas are on the wrecks, a few early-run king mackerel will show up along with bunches of Spanish mackerel, and there are blacknose and sandbar sharks around some of the hard bottom areas. The bottom fishing is still good with red grouper, lane snapper, vermilion snapper, porgys and grunts available on patches of live bottom starting in about 60 feet of water. Other catches this month will include some gag grouper, and a few scamp, but most of these fish are caught in 100 feet of water or deeper. Both yellowtail snapper and mangrove snapper are stacked pretty good on the taller wrecks and artificial reefs starting in about 70 feet, though the manmade reefs in as little as 30 feet of water are holding mangrove snappers too.
Charlotte Harbor
If you want that one last tarpon of the season then you should get moving, since September is the last month of the year when you can count on finding tarpon. Yes, some years they stick around in good numbers well into October (and sometimes even later) but really any large tarpon caught after the first of October are a bonus in SW Florida. Look for schools of bait in the upper harbor, especially near the mouths of the Peace and Myakka Rivers, and watch

for tarpon rolling or feeding around the edges. Catch-and-release fishing for snook is pretty good as their numbers continue to grow as a result of the moratorium on their harvest for more than three years. Redfish catches are mediocre but slot size fish are scattered along the mangroves on both sides of the harbor (remember that redfish harvest is still prohibited in Charlotte Harbor). Shark fishing in the lower harbor within a mile or two of the Gulf is reasonably productive and there are on-again off-again flurries of action from Spanish mackerel around the Cape Haze bar and the Bokeelia bar.