Gulf of Mexico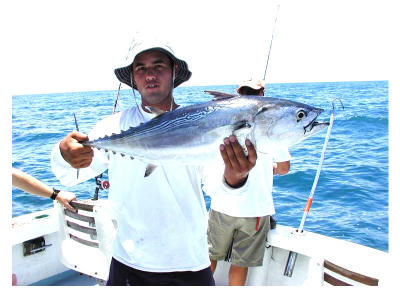 October means mackerel time in the Gulf. Spanish mackerel, as well as the larger king mackerel, appear in local waters as they make their fall southward migration. Spanish mackerel typically arrive first, with Kings close behind, with both peaking in November. Big "smoker" kings are best caught on live baits such as blue runners and big threadfins over wrecks, reefs and ledges. Smaller kings in the five- to fifteen-pound range might be found just about anywhere from as little as a mile or two off the beaches up to 30 miles out, or more. Spanish mackerel are usually found along the beaches, in the passes and along the ICW, and offshore to about 20 miles out. Surface-breaking fish, diving birds and circling boats are all signs of mackerel action. When the mackerels are shadowing huge schools of bait, the fishing can be frantic as the schools pop up, ravage an unlucky school of bait, and move on to the next. The schools of baitfish also attract other predators, including bonita, bluefish, sharks, blackfin tuna, and sometimes schools of surprisingly large redfish. If you can tear yourself away from the mackerel action, the bottom fishing is steady on hard bottom in water depths of about 65 feet or more, and mangrove snapper are stacking up on wrecks and artificial reefs in 30 to 70 feet of water.
 
Charlotte Harbor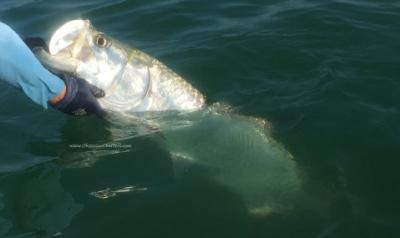 October fishing in Charlotte Harbor offers anglers their choice of action. Tarpon will remain in the harbor until we've had a few jacket-weather chilly mornings. Some of the migrating schools of Spanish mackerel that are headed south along the Gulf beaches will swing into the harbor and anglers can find them around schools of bait and outside the bars on both sides of the harbor.
Big redfish can be found in bunches as they push water along the bars and on the edges of the flats on the east side of the harbor, in Matlacha Pass and in Gasparilla Sound.
Smaller redfish tend to spread inland, along mangrove shorelines, in tidal creeks and in canal systems.
Snook also typically move inland and will often be taken cast-for-cast with redfish in the middle and upper harbor along the mangroves.
Trout fishing on the flats is usually good in the mid- and upper-reaches of the harbor. If you do your trout fishing with shrimp or jigs, expect to find a few bluefish and pompano sharing water with the specks. Note that the fishing for snook and redfish is restricted to catch-and-release in Charlotte Harbor. Check MyFWC.com for for info.