Start the summer off on a high note with a Memorial Day Weekend stay in Punta Gorda/Englewood Beach, a wonderful place to spend three days soaking up the sun, sand, and sea with friends and family. This laid-back destination is a must for a visit with great dining and an abundance of activities to please everyone in your party.
As the official start of Summer, the three-day Memorial Day weekend is the perfect time to get out on—or into—the water. Whether you're looking to drop a line, take a dip and hunt up shells and fossilized shark teeth at the beach, or enjoy a paddle, kayak, jet ski, or other boating adventure, you'll find the perfect water activity in the area.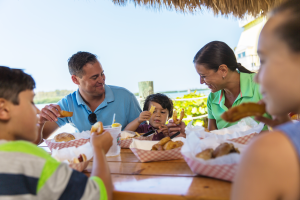 If you prefer your leisure on land, make some time to take your time playing a relaxed round of golf or two at one of over 20 gorgeous courses, then enjoy other outdoor activities like a wildlife-filled eco-tour, bike ride, hike, picnic in a park, or a nice walk on a beautiful beach. Be sure you're positioned to watch the sunset each evening.
Whatever activities you choose, you'll find plenty of excellent waterfront and sunset-facing eateries at which to wind down and reflect after a busy day. Many also feature live music, so wear your dancing (or toe-tapping) shoes.
Memorial Day Happenings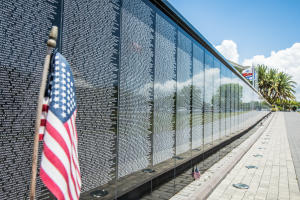 Throughout the weekend, May 27–30, all are invited to experience the Punta Gorda Healing Field of Honor® display of 1,000 flags in Laishley Park. Admission is free and Taps will be played each evening at 6 pm.
The annual Memorial Day ceremony will take place on May 30 at Veteran's Park next to the Vietnam Memorial Wall of Southwest Florida, near Laishley Park. The ceremony will start at 10 am and bringing your own chair is suggested. A reception at the Military Heritage Museum follows at 11 am. The museum will be open from noon to 4 pm and admission is waived for all veterans.
Check out our Event Calendar to search for what's happening in Punta Gorda/Englewood Beach during your visit.